Bunion support that straightens the big toe and optimises propulsion during sports practice.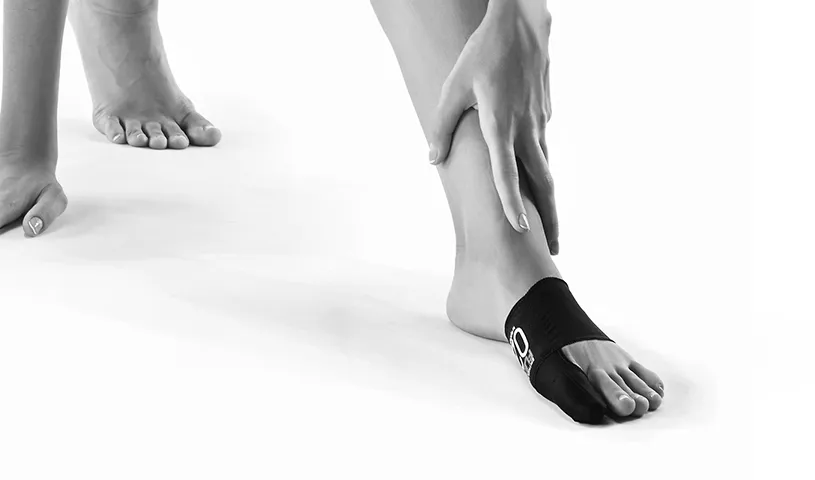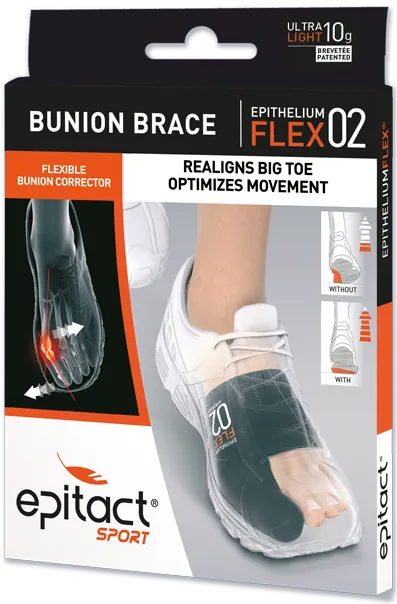 Delivered to you on
Tuesday 05 December
.
Choose the size
Add to cart
Choose your size


French innovation

Secure payment

Free shipping
Free shipping

LESS PAIN, BETTER PERFORMANCE!
Your bunion aches in your sports shoes and you are looking for a solution that allows you to continue playing sports without pain? Look no further, EPITACT® has created the flexible bunion corrector for sports activities.
Description of the

flexible bunion corrector

for sport
Splints, protections, straighteners, correctors… there are so many solutions to soothe and correct your bunions, also called hallux valgus. And yet, not many are specially adapted for sports.
The sport bunion support is a concentrate of technology that corrects the deformity and relieves bunion pain during physical activities, in particular walking and running. By realigning the big toe, it improves the distribution of loads to the forefoot, limits pronation, optimises propulsion and helps prevent injuries. It also fights against all the factors that aid the development of bunion deformity and pain during walking.
How does it work?
The effectiveness of the flexible sport bunion corrector is based on a technical pattern including:
1) a patented silicone tendon EPITHELIUMFLEX™ that straightens the big toe as you stretch the fabric backwards on your foot. It also protects your bunion from pressure and friction against the shoe.
2) a patch of EPITHELIUM™ acts as a comfortable cushion against the brace which pushes back the first metatarsal.
3) a contention metatarsal band that limits widening of the forefoot.
Added advantages of the EPITACT®'s sport

bunion support
This sport bunion corrector is as effective as comfortable thanks to all its characteristics:
very thin, light and flexible, it fits any type of sports shoes;
customised correction degree of the deformity by slightly and gradually stretching the fabric backwards on your foot;
machine washable and reusable for several months.
quality, resistant and soft fabric with

thin and flat seams for better comfort.

adapted for both right and left foot.
available in 3 sizes (S, M, L).
French innovation based on high-quality French fabric and patented know-how.
EPITACT®'s advice
Only wear the bunion corrector for sports if your big toe moves laterally. Do not wear it at night.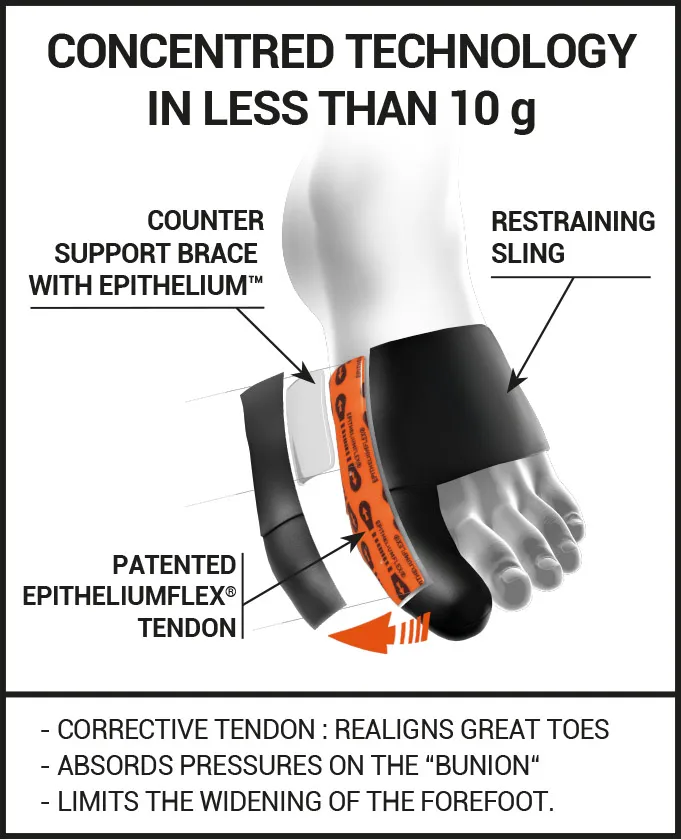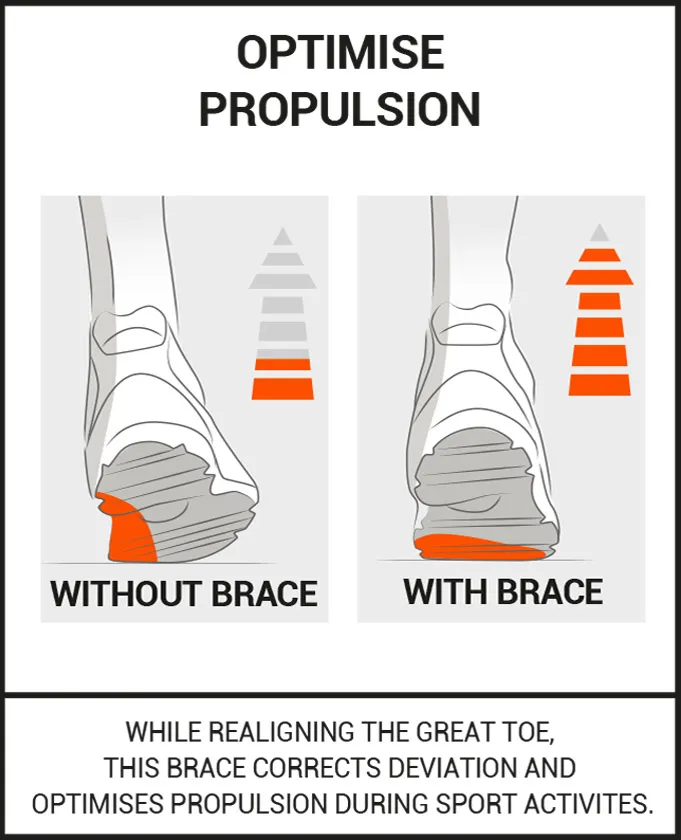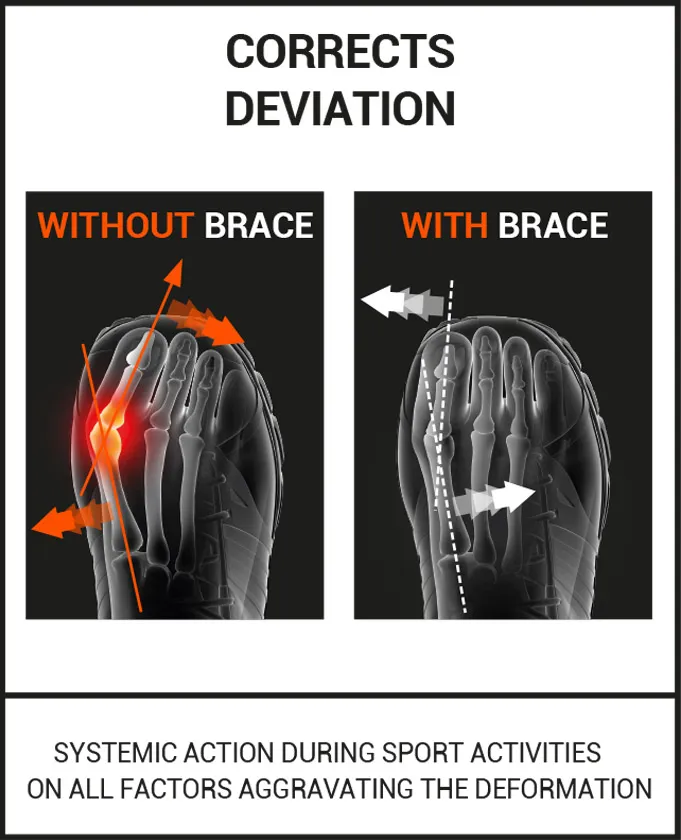 Features
Instruction for use

Ultra-thin

Ultra-light

Sold by the unit

Machine washable at 30°C

Available in classic version Day/Night

Ultra-comfortable

Can be worn in any shoes

Can be worn on left or right foot
This solution is a class I medical device that bears the CE marking under this regulation. Carefully read the instructions before use.
Manufacturer: Millet Innovation. 09/2019
Hallux valgus is a deformity that cannot disappear over time.
EAN Size S 3660396009109 - Size M 3660396009116 - Size L 3660396009123
TRUE/FALSE
Bunion orthotics are too bulky to wear in sports shoes.
TRUE and FALSE! It is true that most orthotics currently on the market are not compatible with sports footwear: they are too rigid and bulky. To meet the needs of sportspersons, EPITACT® has designed a bunion corrector that is so thin that it fits any sports shoes, even the most specialised ones (including ballet shoes).
You can't protect your bump with a plaster during sport: you need a bunion corrector!
TRUE! Actually, bunion supports for sports do more than just protect your bunion. By realigning your big toe, it is able to produce more drive as it pushes off the floor. This is a crucial part of running technique, for example.
Sports activities are not compatible with a bunion.
FALSE! Except in the case of major functional discomfort, having a bunion doesn't involve sports restrictions, but protecting the toe is crucial. Indeed, some sports involve repeated pressure on the side of the foot, for example running and tennis. So, the EPITACT® bunion corrector for sports protects the bump and relieves pain but does not impede movements.