Arthritic hand support to relieve pain at the base of the thumb during activities.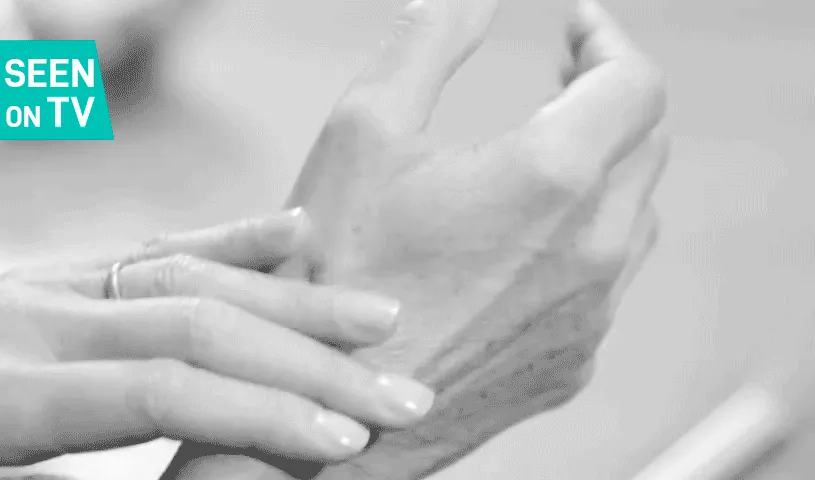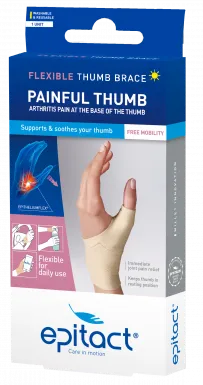 Delivered to you on
Tuesday 05 December
.
Choose the size
Add to cart
Choose your size


French innovation

Secure payment

Free shipping
Free shipping

AT LAST! A SOLUTION THAT FITS FOR YOUR EVERYDAY ACTIVITY!
You have pain at the base of your thumb during your activities? Gripping, pinching, screwing or bearing objects is difficult, even impossible? EPITACT® introduces you the day flexible thumb support for arthritis to wear during activities of daily living. In all situations you do not use your thumb, this device accompanies your movements without ever impeding your mobility.
Description of the EPITACT® flexible thumb support
The flexible thumb support soothes basal thumb joint pain during activities and limits inflammatory flares. It accompanies thumb movement and helps your thumb to return in a resting and neutral position. How? Thanks to a patented pattern designed to open the angle between the thumb and index finger and to align the thumb with first metatarsal bone. This anatomical position reduces the stress on the affected joint and then relieves thumb arthritis pain.
Because it is only made of flexible materials, it does all this while preserving hand function. Indeed, moving the fingers, flexing the thumb and thumb/index pinch is still possible.
The flexible thumb support allows to continue your activities and facilitates some movements that were painful and that you had difficulties to do (bear a bag, open a bottle, grab a phone, iron, hold a tool…).
More than 90% of users declared having less pain thanks to the EPITACT® flexible thumb support(1).
How does the

flexible thumb support

work?
The technology of this flexible thumb support is based on its patented pattern with special form that naturally helps the thumb joint to rest.
This is a proprioceptive brace, what means that you are more aware of the position of your thumb and basal joint. As the fabric stretches during traumatic movements, the sensation of presence of the brace encourages you to stop such movement and return to the neutral position.
Moreover, the pattern includes a silicone tendon on the painful area; the trapeziometacarpal joint. This pad maintains localised warmth, which is pleasant in case of joint pain.
Added advantages of the EPITACT

flexible thumb support
Very discreet and light;
Ultracomfortable thanks to the soft and thin fabric without thick seams
Compatible with your usual jewels or watch
It has no Velcro fastener that could damage clothes
Totally flexible to preserve hand and fingers movements, pinch grip and dexterity
Machine washable and reusable for several months
Available in 3 sizes (S, M, L).
French Innovation using quality French fabric.
EPITACT®'s advice
In all the situations you do not use your hands like downtime and at night, try the rigid thumb brace for arthritis*. The combination of both devices day and night allows for 24-hour effectiveness.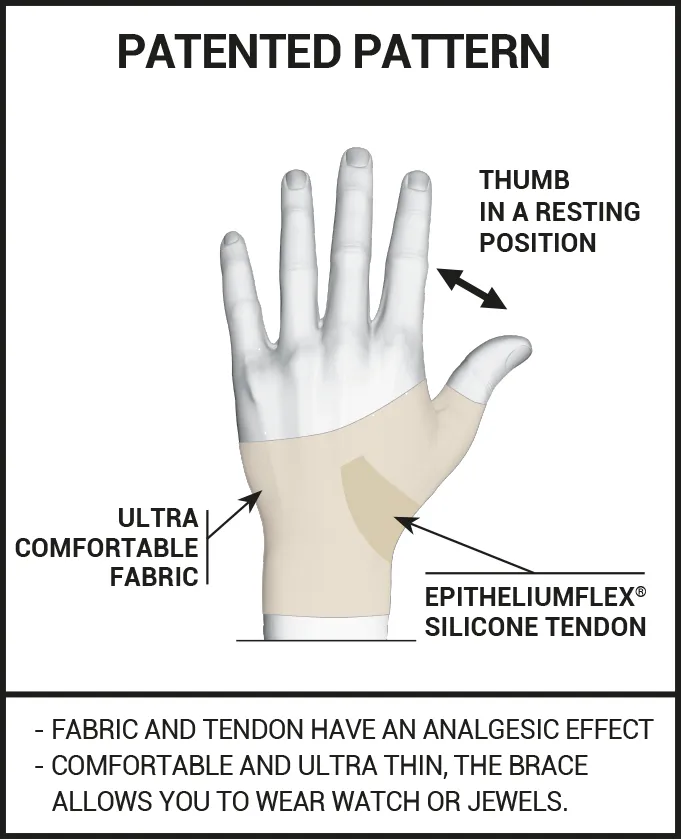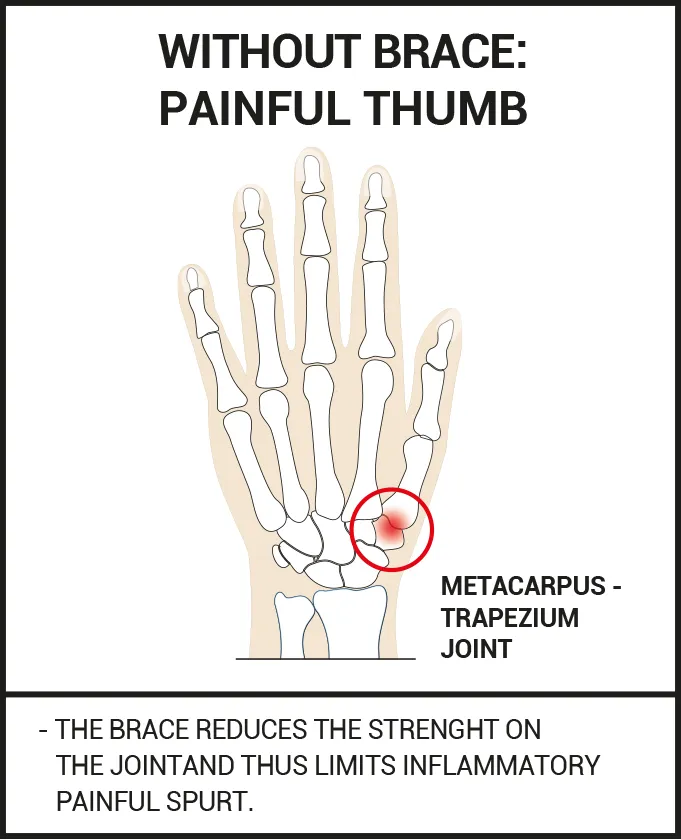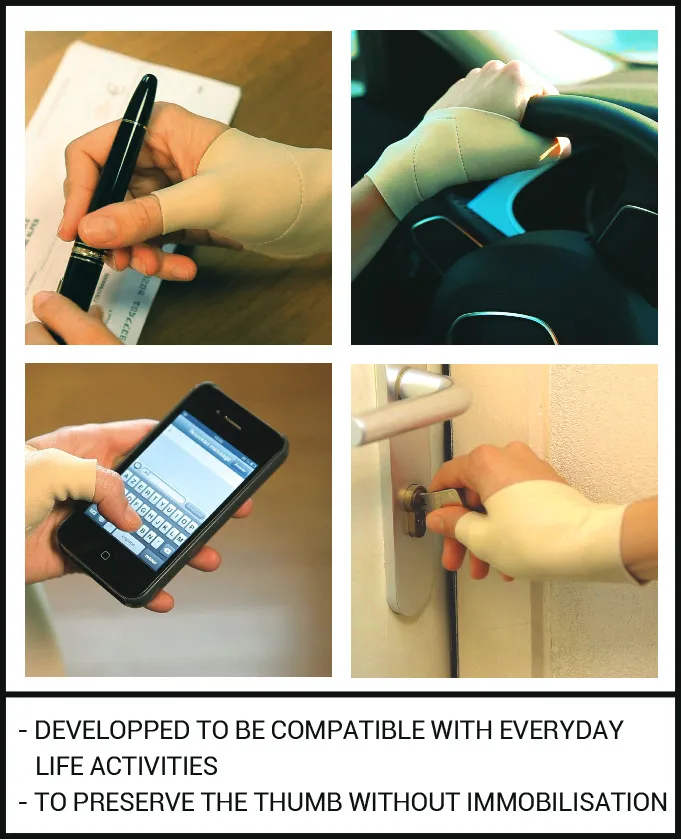 Features
Instruction for use
Ultra-light

Ultra-thin
Machine washable at 30°C

Sold by the unit

Available for right and left hand

Available in night version

Washing net provided

Ultra-comfortable
This solution is a class I medical device that bears the CE marking under this regulation. Carefully read the instructions before use.
Manufacturer: Millet Innovation. 09/2019.
(1)Study conducted in October 2014 on 174 respondents under the supervision of a bailiff.
EAN Size S right hand 3660396010778 - Size S left hand 3660396010785 - Size M right hand 3660396010792 - Size M left hand 3660396010815 - Size L right hand 3660396010822 - Size L left hand 3660396010839
TRUE/FALSE
To relieve arthritis pain in thumb, you should wear a rigid thumb brace all day.
TRUE and FALSE! It is indeed recommended to immobilise your thumb during the day, but most of the time this is not compatible with a working life. This is why we have developed a flexible thumb support that lets you use your hand to grasp objects while limiting movement of the thumb joint when you aren't using it.
You cannot drive while wearing the EPITACT flexible thumb support for arthritis.
FALSE! The flexible thumb support is designed so that you can use your thumb when you need to: you can drive, use the phone and cook while wearing it. What the device does is that it limits micromovements of the hand when talking or walking. These movements are only slight, but over time they can trigger painful flares.
One flexible thumb support can be worn on both hands.
FALSE! The effectiveness of the EPITACT® day thumb support is based on its patented pattern. Thanks to its flexible fabric, it fits the shape of your hand and places the affected joint in a proper position. Its silicone tendon at the base of the thumb aims to provide warmth. So, if you use this device on the other hand, the position of its different components is not appropriate and the effectiveness reduces.