Absorb shocks and relieve heel pain caused by heel spur and plantar fasciitis.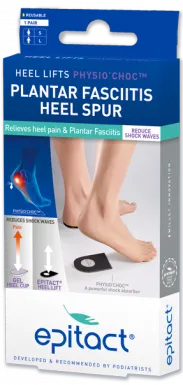 Delivered to you on
Tuesday 05 December
.
Choose the size
Add to cart

French innovation

Secure payment

Free shipping
Free shipping

CUSHION HEEL IMPACT WITH THE GROUND AND PROVIDE RELIEF AT EACH STEP.
You feel sharp pain while standing for a long time? Your discomfort especially increases with the first steps in the morning or after prolonged sitting? To relieve your pain caused by a heel spur or plantar fasciitis when walking, try the EPITACT®'s heel lifts.
Description of the heel lifts for shoes by EPITACT®
Plantar fasciitis is caused by repetitive and excess stress on the plantar fascia (running, prolonged standing, being overweight…). Such inflammation leads to sharp pain under the heel.
To provide optimal comfort and relief at each of your steps, the EPITACT®'s heel lifts reduce shock waves responsible for pain and limit the strain on the plantar fascia. In the same time, they help to prevent and relieve joint and back pain. By lifting your heels up by 5 mm, they reduce the strain and inflammation on the plantar fascia.
How do they work?
The effectiveness of the EPITACT®'s heel lifts is based on:
A heart of silicone gel of EPITHELIUM™: limits pressure on the painful area and brings extra-comfort while walking.
A double-sided adhesive: the heel lifts stay well in place in all your shoes.
A base made of PHYSIOCHOC™, a powerful shock absorbing material: dissipates the energy generated as the foot makes contact with the ground. This guarantees effective cushioning at each step and helps preserve the joints, muscles and tendons.
Advantages of the hammer toe cushions
Maximum comfort during walking;

Very thin;

Ultra-light;

Available in 2 sizes (S, L).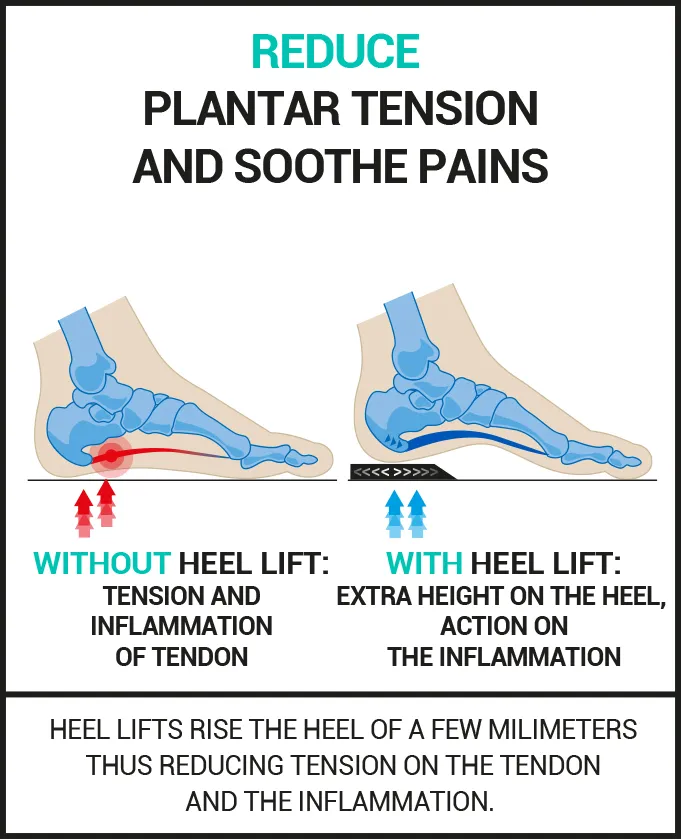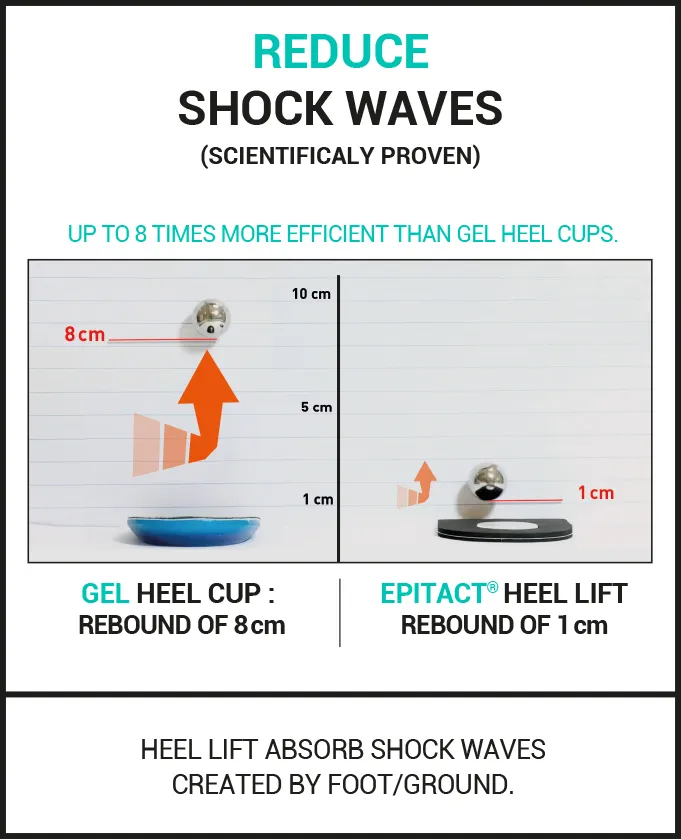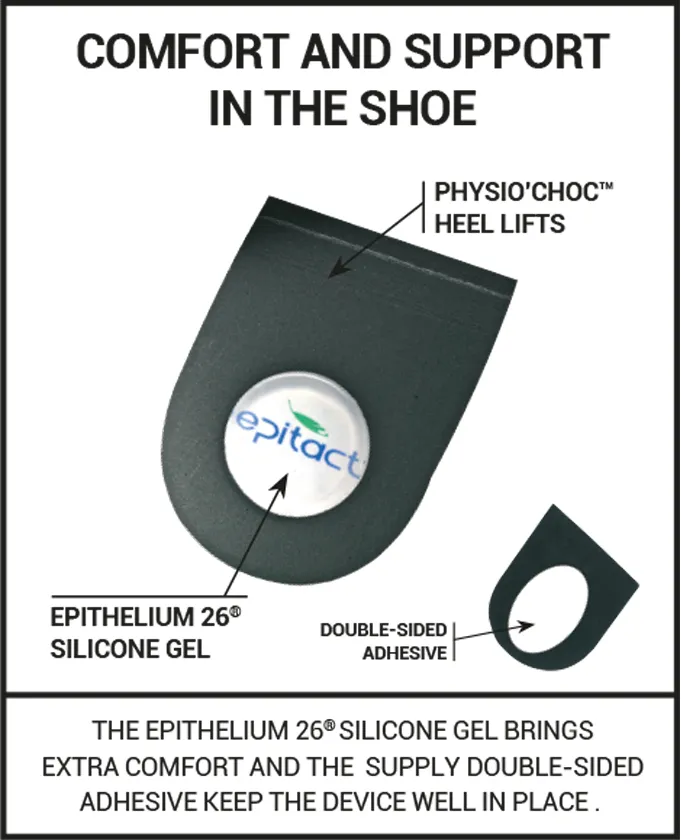 Features
Instruction for use

Ultra-thin

Ultra-light

Sold by pair
This solution is a class I medical device that bears the CE marking under this regulation. Carefully read the instructions before use.
Manufacturer: Millet Innovation. 10/2023.
EAN Size S 3660396010846 - Size L 3660396010853
TRUE/FALSE
Heel lifts must be made of gel to be efficient on pain.
FALSE! To relieve pain caused by plantar fasciitis, the heel must be lifted to reduce the stress on the plantar fascia. Besides, heel lifts must be made of a material which shows shock absorbing properties to limit traumas generated as the foot makes contact with the ground: some gels show this property (not all of them!) but some other materials like PHYSIO'CHOC™ are powerful shock absorbers.
The most comfortable heel lifts are only made of gel.
FALSE! At first, gel heel pads seem more comfortable but when you wear them all day long, they may cause heel pain. Moreover, as they are very flexible, they induce foot collapse inwards called overpronation. Wearing this kind of device for a long time can enhance pain elsewhere in your body, for example in the knees.
Wearing high heels is not recommended in case of plantar fasciitis.
FALSE! Wearing high heels doesn't necessarily cause pain related to plantar fasciitis. Indeed, this pain often occurs when footwear habits are changed. For example, walking barefoot or with flat shoes after wearing high heels may cause this pain. Since the foot biomechanics is modified, the fascia is under strain, what triggers pain. Therefore, it is recommended to change the type of shoes regularly to avoid the foot to be used all the time and in the same way.