A day thumb support and a night thumb brace for continuous action on arthritis.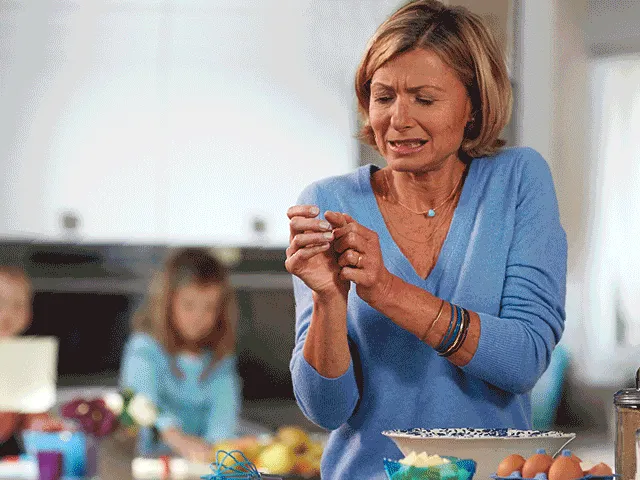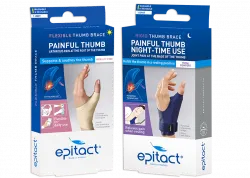 Delivered to you on
Friday 08 December
.
Add to cart

French innovation

Secure payment

Free shipping
Free shipping

TWO THUMB SUPPORT BRACES TO RELIEVE ARTHRITIS PAIN ALL DAY LONG.
You have thumb arthritis that causes you joint pain at the base of your finger. During the day, this pain can impede your movements and limits you in your activities. At night, it can awake you and disturb your sleep. To improve everyday joint comfort, EPITACT® suggests you a special offer with a day and a night thumb support brace.
The flexible thumb support for day use
Use of the thumb is systematic during day activities. You grab, screw, bear, pinch objects and move constantly your hand and thumb. Therefore, immobilising them completely would prevent you from carrying out your activities properly. This is the reason why EPITACT® has created the flexible thumb support, which reduces unnecessary and traumatic movements of the joint. It relieves pain while preserving the hand's function.
This device is recommended to supplement the rigid thumb brace at night. In the case of thumb arthritis, wearing braces is highly recommended to soothe joint pain.
The rigid thumb brace for night use
When you sleep, your thumb takes some positions that may increase pain. To face this problem, the EPITACT® night thumb brace comfortably immobilises the hand in a neutral resting position. Such a position limits the forces the affected joint is subjected to and thus relieves joint pain. The EPITACT® rigid thumb brace helps you limit the progression of symptoms and reduce painful arthritis flare-ups.
This device is recommended for nighttime or whenever you do not use your hand.
Added advantages of the EPITACT® thumb support braces
Both patterns of the EPITACT® flexible and rigid thumb support braces have been patented. Those devices are designed to provide you a solution as comfortable as effective thanks to many criteria:
very thin;
very light;
ultra-comfortable;
adapt to your hand shape;
washable and reusable several months;
adapted to daily use;
available in 3 sizes (S, M, L);
soft and quality French fabric;
French innovations by EPITACT®, a laboratory specialised in orthopaedic care solutions.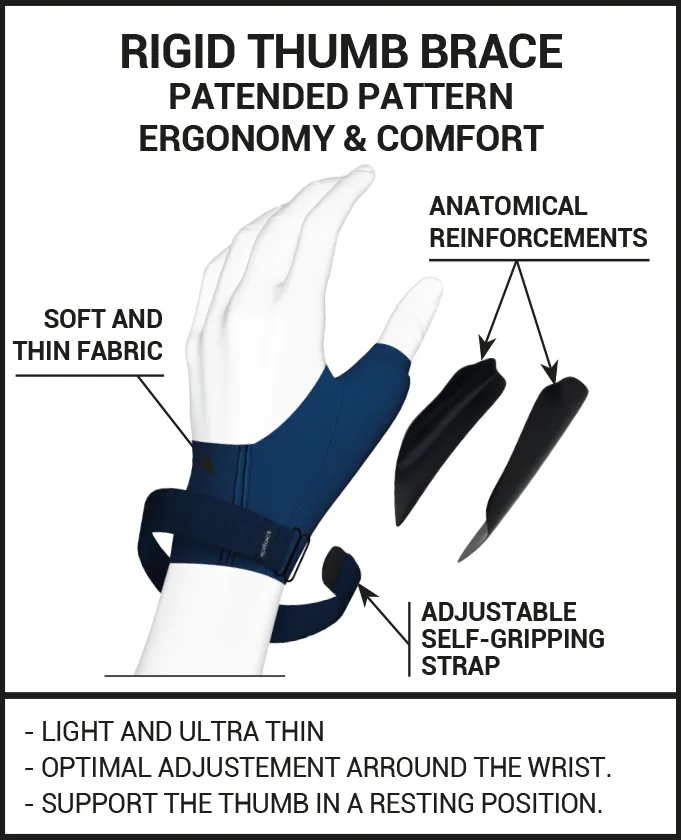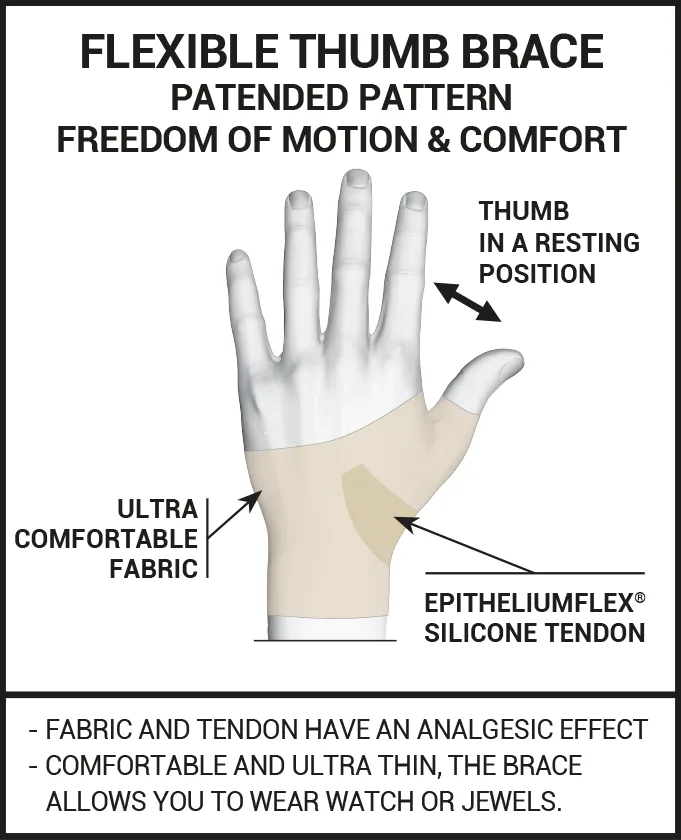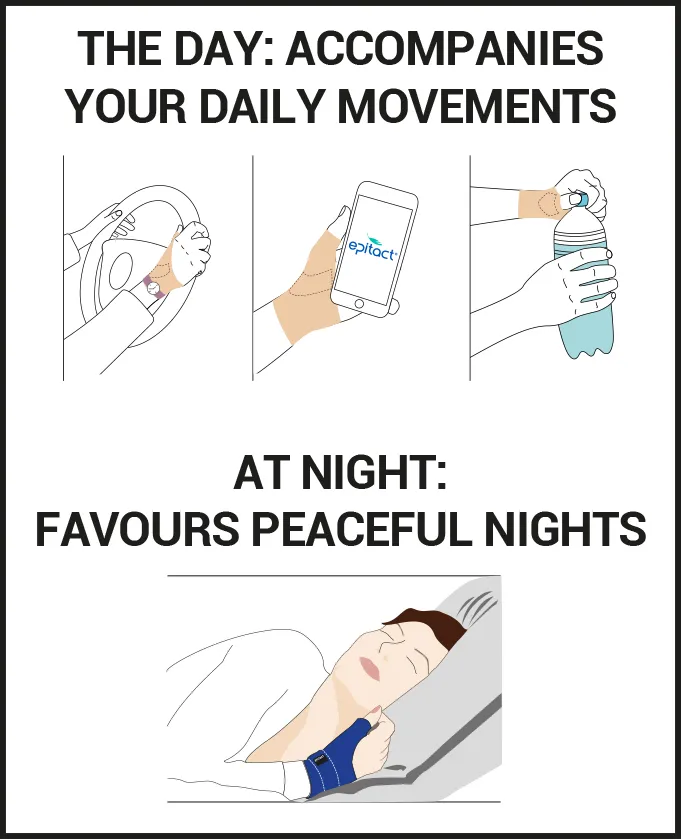 Features
Instruction for use

Braces for day and night

Thin

Machine washable at 30°C
Light

Available for the left or right hand

Comfortable
These products are class I medical devices that bear the CE marking under this regulation. Carefully read the instructions before use.
Manufacturer: Millet Innovation. 07/2021
FLEXIBLE THUMB BRACE FOR ARTHRITIS
EAN Size S right hand 3660396010778 - Size M right hand 3660396010792 - Size L right hand 3660396010822
EAN Size S left hand 3660396010785 - Size M left hand 3660396010815 - Size L left hand 3660396010839$
RIGID THUMB BRACE FOR ARTHRITIS
EAN Size S right hand 3660396012185 - Size M right hand 3660396012208 - Size L right hand 3660396012222
EAN Size S left hand 3660396012192 - Size M left hand 3660396012215 - Size L left hand 3660396012239
TRUE/FALSE
The tighter the thumb support brace, the more effective it is.
FALSE! The EPITACT® braces are available in three different sizes (small, medium and large). A guide helps you chose the appropriate size for you. The brace size is based on the circumference of the wrist, which is variable from one person to another (click on the « Choose the size » guide available with each product). A brace that is too large won't be effective, whereas a brace that is too tight would impede blood flow. To avoid this, the rigid brace is designed with an adjustable gripping strap.
A rigid thumb brace is always uncomfortable and a flexible thumb support is not effective.
FALSE! Actually, the materials of the rigid brace that are used for immobilising the joint are semi-rigid, so they keep a certain deformation capacity. Also, their anatomical shape allows them to adapt comfortably to the morphology. Additionally, the flexible thumb support for arthritis does not immobilise, but instead supports the joint. Its technology provides a neutral position for the thumb, in order to limit traumatic movements and relieve joint pain.
Other braces for conditions affecting the wrist can be suitable for thumb arthritis.
FALSE! Each condition has a solution, at least with EPITACT®! Hand and wrist conditions (including de Quervain's tenosynovitis and carpal tunnel syndrome) have specific pathophysiological properties. Braces are designed to immobilise at different angles and to protect precise areas that are painful. The EPITACT® rigid and flexible thumb support braces have been specially created for arthritis.