Elastic wrist support to relieve carpal tunnel syndrome during activities.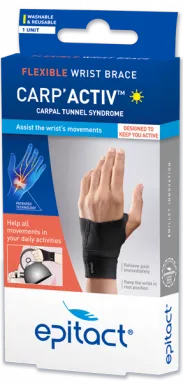 Delivered to you on
Tuesday 05 December
.
Choose the size
Add to cart
Choose your size


French innovation

Secure payment

Free shipping
Free shipping

AT LAST A SOLUTION THAT IS COMPATIBLE WITH YOUR EVERYDAY ACTIVITY!
 
You have carpal tunnel syndrome and wonder how you can continue your daily activities without pain? The EPITACT®  wrist support for carpal tunnel limits the traumatic movements during your daily activities and relieves pain and tingling caused by carpal tunnel syndrome.
Indications for the EPITACT® 

carpal tunnel wrist support
The EPITACT® elastic wrist support is for people with carpal tunnel syndrome, wrist tendonitis and musculoskeletal disorders. It supports your wrist during daily activities.
Description of the

elastic wrist support

for carpal tunnel syndrome
We use our hands and wrists all day, whether at home, at work, during hobbies or sports activity. But some movements can aggravate the pain in case of carpal tunnel syndrome.
The elastic wrist support CARP'ACTIV™ limits such harmful movements to ease pain and tingling related to carpal tunnel syndrome. Indeed, it has a technical fabric and a special design that help the wrist to return to a neutral position.
As it is entirely flexible, it preserves full use of your fingers and pinch grip. This means you can continue or recover your daily activities, even driving.
How does it work?
The EPITACT® carpal tunnel wrist support is effective and comfortable thanks to its patented pattern:
the support strip helps the wrist to return to a resting position. It is on top of the wrist only to not create pressure on the carpal tunnel. The loose base is also voluntary to meet the same objective;
wide opening of the fabric around the thumb that allows free thumb motion;
shifted seam that allows free lateral movements;
technical fabric with a special form that perfectly matches the shape of the hand for a comfortable fit.
This pattern is inspired by proprioception, the sense through which we perceive the position and movement of our body. Indeed, when you make excessive movements with your wrists, the fabric stretches and creates a resistance. This makes the wearer aware of the traumatic movements he is making so that he can immediately correct them. The reassuring presence of CARP'ACTIV™ thus brings you some peace of mind back into your everyday actions. 
Added advantages of the

carpal tunnel wrist support

by EPITACT®
flexible, ultra-thin and light;
ultra-comfortable;
soft and breathing fabric;
very discreet;
quality and resistant French fabric;
adapted to daily use;
machine washable and reusable for several months;
exists in right- and left-hand version;
available in 3 sizes (S, M, L).
EPITACT®'s advice
For continuous effectiveness, combine the use of the elastic wrist support for carpal tunnel with the rigid wrist brace at night.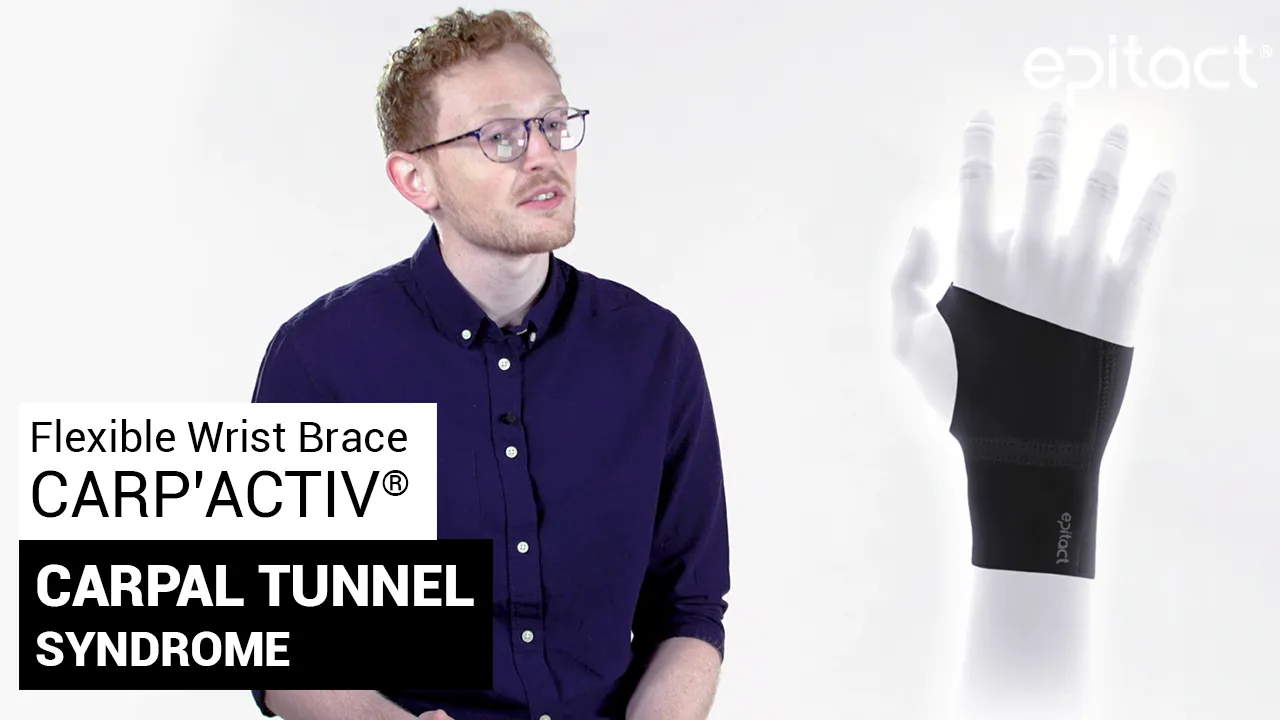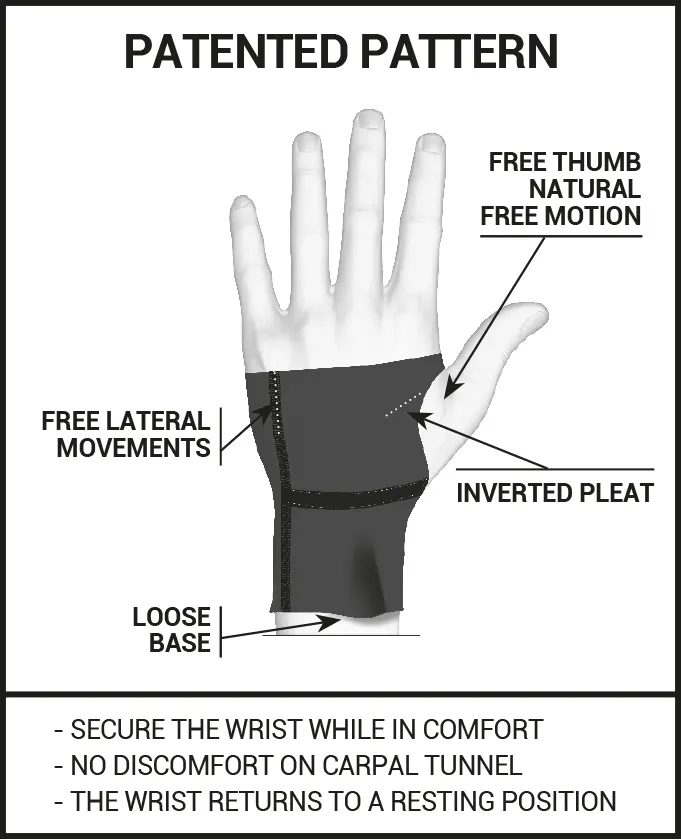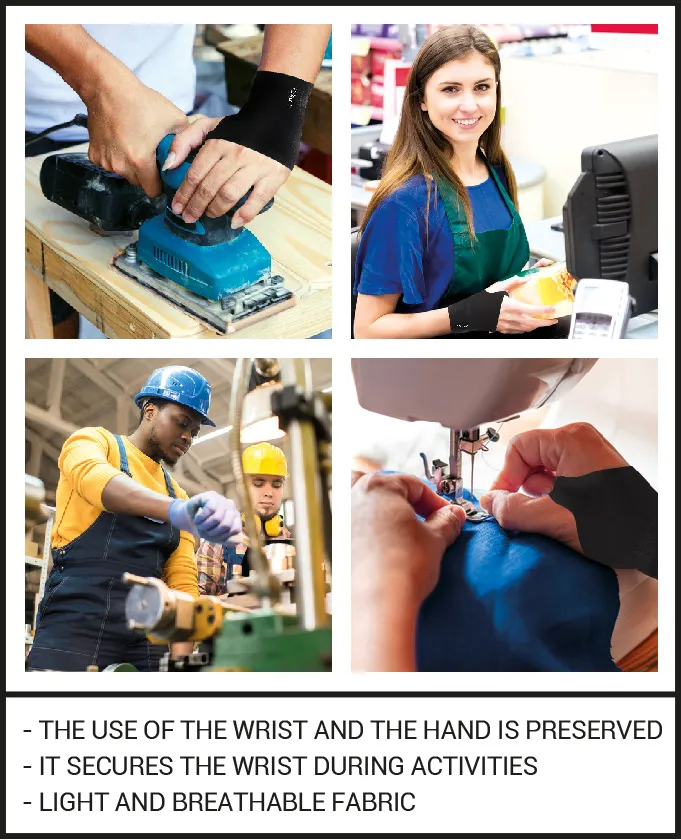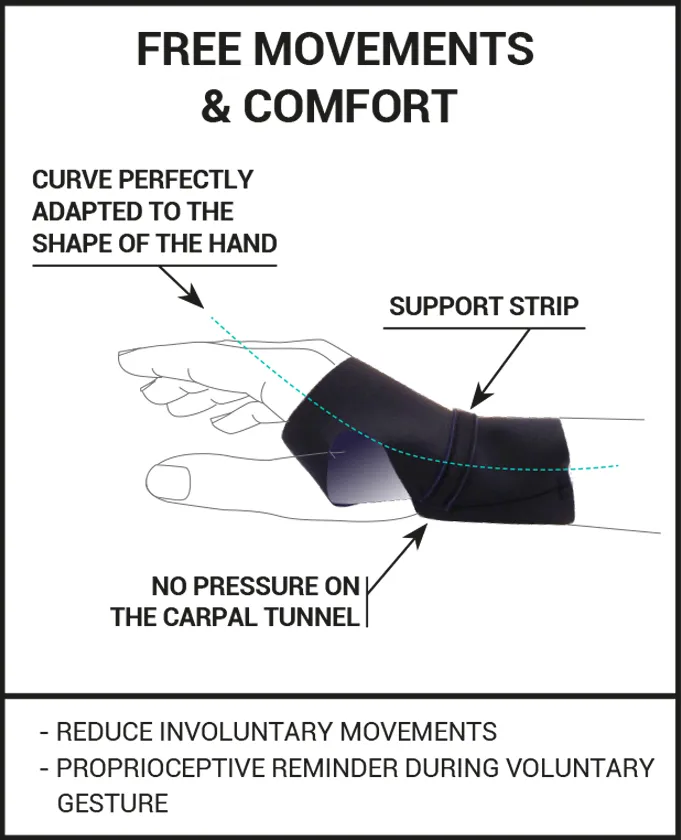 Features
Instruction for use

Ultra-thin
Ultra-light

Machine washable at 30°C

Sold by the unit

Night version available

Available for left or right hand

Washing net provided

Ultra-comfortable
The carpal tunnel wrist support is a class I medical device that bears the CE marking under this regulation. Carefully read the instructions before use. 
Manufacturer: Millet Innovation. 09/2019
EAN Size S right hand 3660396013731 - Size S left hand 3660396013748 - Size M right hand 3660396013755 - Size M left hand 3660396013762 - Size L right hand 3660396013779 - Size L left hand 3660396013786
TRUE/FALSE
Immobilising the wrist during the day relieves pain from carpal tunnel syndrome.
TRUE and FALSE! Yes, but immobilising your wrist during daily activities changes the way you move. As a result, you may compensate by overusing other joints like the elbow or shoulder, which can progressively become painful. During the day, it is better to limit harmful movements with an elastic wrist support that doesn't restrict motion. at night, you can wear an immobilisation wrist splint.
One wrist support for carpal tunnel syndrome fits both hands.
FALSE! The EPITACT® carpal tunnel wrist support has been designed to perfectly fit the natural shape of the hand. Also, the support strip on the top of the wrist helps it to stay straight and reduces pressure on the carpal tunnel. As the fabric stretches during inappropriate movements, it makes its user aware of these movements so that he can correct them. In this way, one elastic wrist support CARP'ACTIV™ can only fit one hand.
Recurrence of carpal tunnel syndrome is possible.
TRUE! Recurrence is possible, no matter the treatment. Even after surgery, persistent or recurrent symptoms (i.e. after a 3-months calm period) may reappear. In those cases, you should consult your general practitioner who will clearly identify the causes of this relapse. A second surgical intervention may be considered.