Effective to relieve carpal tunnel syndrome at rest and night.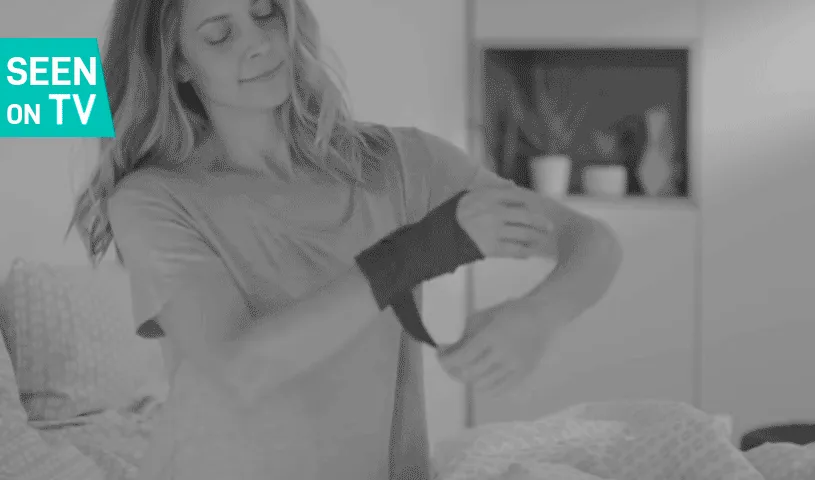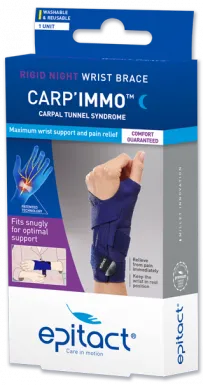 Delivered to you on
Tuesday 05 December
.
Choose the size
Add to cart
Choose your size


French innovation

Secure payment

Free shipping
Free shipping

FIND RESTFUL SLEEP AGAIN THANKS TO THE COMFORT AND EFFECTIVENESS OF CARP'IMMO™.
Do you have pain, tingling, numbness in your wrist, hand and first three fingers? Those symptoms of carpal tunnel syndrome often occur at night, what can truly disturb your sleep. EPITACT® has created a carpal tunnel wrist brace that prevents and relieves night pain and tingling caused by carpal tunnel syndrome.
Indications for the EPITACT® 

carpal tunnel wrist support brace
Wearing a carpal tunnel wrist splint or brace is part of the first recommendations for treating mild carpal tunnel syndromes.
The EPITACT® wrist brace is recommended for carpal tunnel syndrome and inflammation, tendonitis or other musculoskeletal disorders of the wrist. Because it is rigid, it should only be worn at night, at any rest time you do not use your hands or during flare-ups.
Description of the rigid

carpal tunnel wrist brace
Symptoms of carpal tunnel syndrome often occur at night, what can greatly disturb your sleep. Indeed, and contrary to what we might think, the wrist is not completely resting at night. Whether we do it consciously or not, we often bend it or place our hand under the pillow, what applies pressure on the wrist. Those traumatic and prolonged positions increase nerve compression and so the pain related to carpal tunnel syndrome.
The solution would be to keep the wrist straight to avoid the positions and movements that trigger pain. The EPITACT® carpal tunnel wrist brace immobilises the wrist in a neutral position to relieve your troublesome symptoms. It has been created to be as effective as comfortable. Indeed, it adapts perfectly to the curves of your hand thanks to pre-shaped and semi-rigid reinforcements. Moreover, it immobilises the wrist but not the fingers for more comfort and motion freedom for you to recover peaceful nights.
How does this

wrist support brace

work?
The EPITACT® carpal tunnel wrist brace has a technical and patented pattern that includes:
a support sleeve made of soft and thin fabric;
a semi-rigid thermo-injected plastic reinforcement that comfortably immobilises the wrist in a resting position. It has a hinge that opens wide to facilitate the passage of the hand;
a hook and loop fastening strap to fit the brace evenly around your wrist without applying pressure on the carpal tunnel.
Added advantages of the EPITACT® 

carpal tunnel wrist brace
The EPITACT® carpal tunnel support brace has many advantages:
very thin and light (some 40 g only!);
ergonomic shape that adapts to your hand and wrist;
easy to put in place;
preserves fingers' movements;
very discreet, you forget you're wearing it;
ultra-comfortable;
adjustable fit;
soft, resistant and quality French fabric;
the

carpal tunnel wrist brace

CARP'IMMO™ is French innovation;
hand washable and reusable for several months;
available in 3 sizes (S, M, L);
exists in right- and left-hand version.
EPITACT®'s advice
During the day, when you need to use your hands, wear CARP'ACTIV™, an entirely flexible wrist support. It has a technical pattern thanks to which it limits movements that contribute to pain while maintaining full hand's function.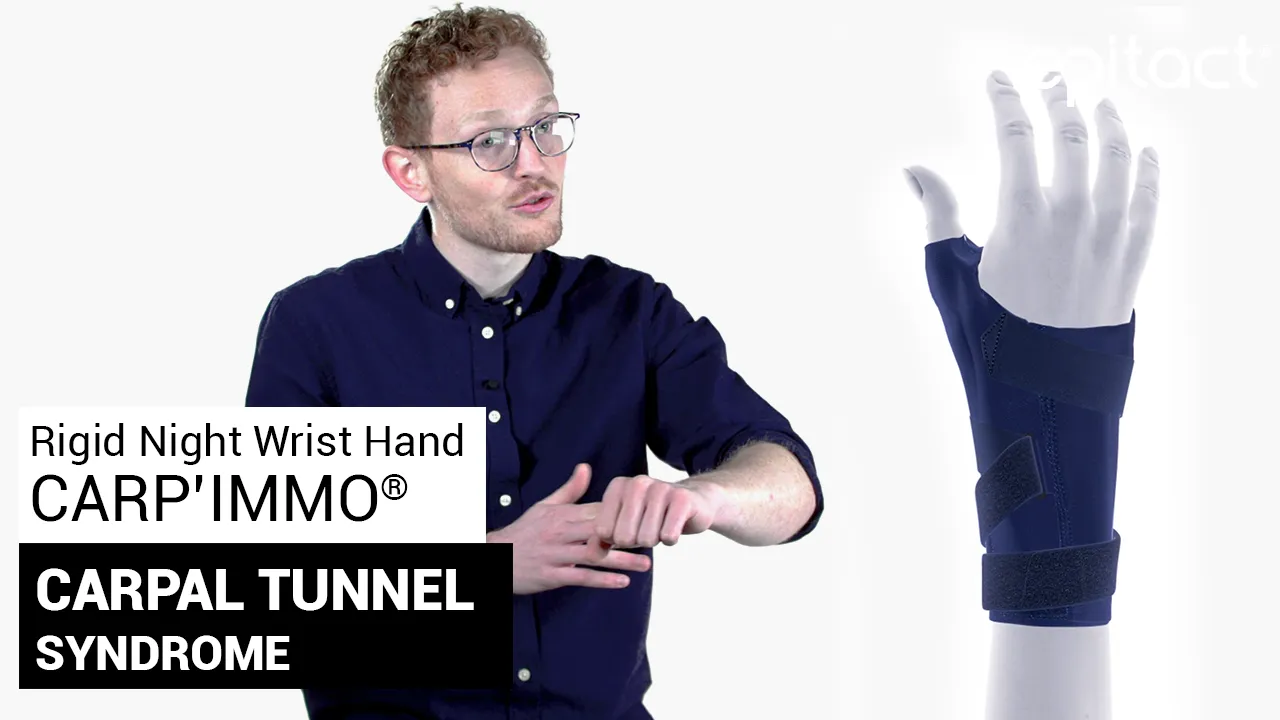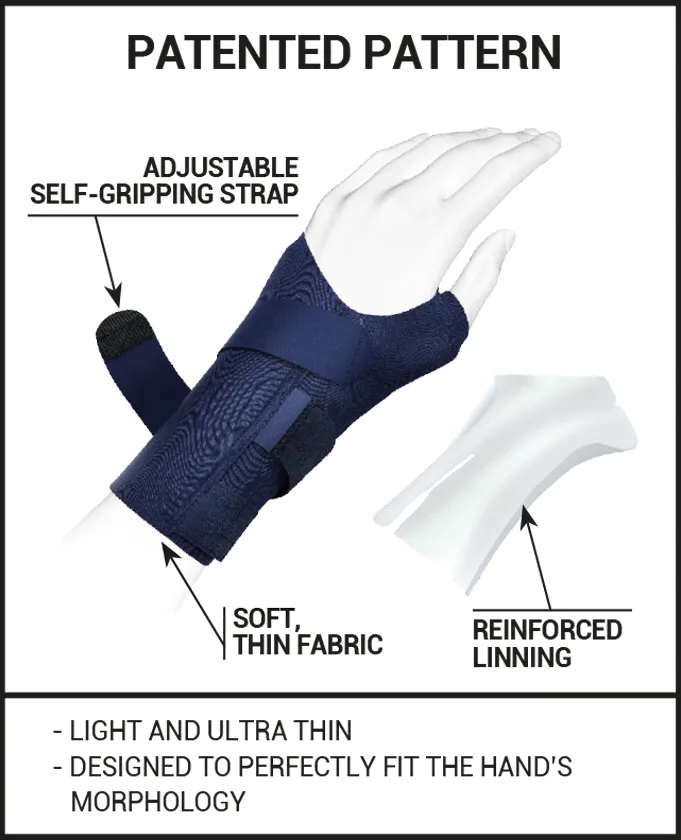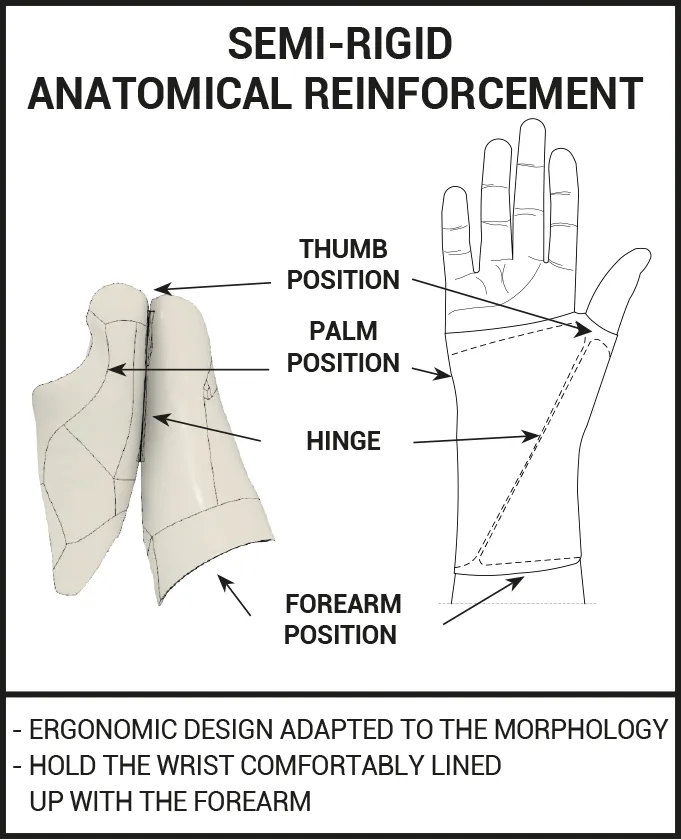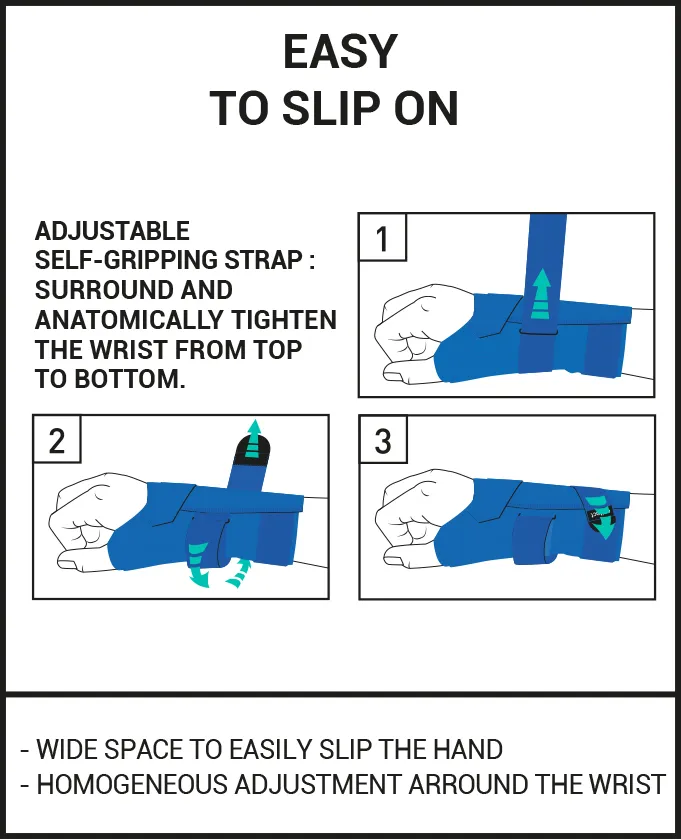 Features
Instruction for use
Ultra-thin

Day version available

Hand washable
Sold by the unit

Ultra-comfortable

Ultra-light
This solution is a class I medical device that bears the CE marking under this regulation. Carefully read the instructions before use. 
Manufacturer: Millet Innovation. 09/2019
EAN Size S right hand 3660396013793 - Size S left hand 3660396013809 - Size M right hand 3660396013816 - Size M left hand 3660396013823 - Size L right hand 3660396013830 - Size L left hand 3660396013847
TRUE/FALSE
To get relief from carpal tunnel syndrome, the wrist needs to be immobilised during the day.
TRUE AND FALSE! Yes, in an ideal world. However, immobilising your wrist with a carpal tunnel wrist splint or brace during activity causes you to change how you move. As a consequence, you may compensate by overusing other joints like the elbow or shoulder. These can soon show signs of suffering. During the day, it is better to protect the wrist from potentially harmful actions with a flexible carpal tunnel wrist support that doesn't stop it from moving.
Carpal tunnel syndrome is inevitable.
FALSE! Some habits seem to reduce the risk of developing carpal tunnel syndrome. For example, daily repeated movements should impede as little as possible the wrist joint. The EPITACT® carpal tunnel wrist support brace CARP'ACTIV™ for a day use limits traumatic injuries and protects your joint. To limit pain, choose an ergonomic equipment, avoid vibrations and repeated movements.
Surgery is the only definitive treatment option.
FALSE! Other options are suggested before surgery. First, it is recommended to find and treat the causes responsible for carpal tunnel syndrome (repeated movements, vibrations, etc.). Also, a drug therapy or a carpal tunnel wrist splint or brace can be required. During the day, you can also wear a flexible wrist support like CARP'ACTIV™. If all this is not sufficient, surgery will be performed but the recurrence is still possible.