Prevent and relieve pain in tip of toes, corns, bruised, black and ingrown toenails.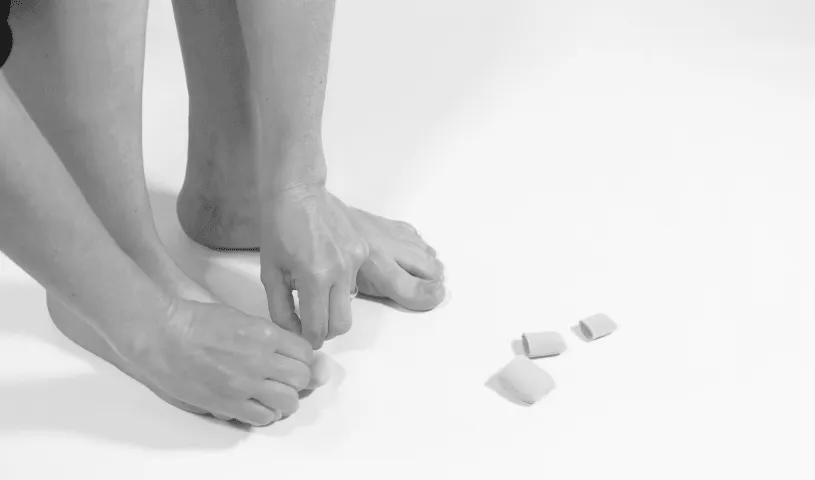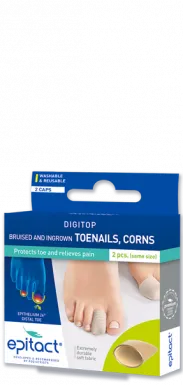 Delivered to you on
Thursday 07 December
.
Choose the size
Add to cart
Choose your size


French innovation

Secure payment

Free shipping
Free shipping

AN EFFECTIVE PROTECTION FOR TOES AGAINST EXTERNAL AGGRESSIONS!
The EPITACT® gel toe protectors Digitops are recommended to protect the tip of toes from corns, ingrown, bruised and black toenails. Worn daily, these protections for toes can be used to relieve your pain or to prevent it. Indeed, once your podiatrist has removed your corn, they will avoid it to reappear.
Description of the EPITACT® 

gel toe protectors
The area at the tip of the toes is particularly sensitive and can be very painful in case of conflict with the shoe. If the end of your toe presents a corn, an ingrown toenail or if it is subjected to repeated mechanical traumas (microshocks), pain is even more severe.
To protect the pulp of your toes and your nails from shocks, pressure and friction in the shoe, EPITACT® has created the Digitops. The effectiveness of these protections for toes is due to the thin layer of patented silicone gel: the EPITHELIUM 26®. As they perform very well to distribute pressure and minimise friction on the skin, they assure immediate relief. All the properties of the EPITACT® gel toe protectors have been laboratory tested and approved.
Characteristics of the

protection for toe corn, 

black and ingrown toenails
For more comfort and effectiveness, each characteristic of the EPITACT® gel toe protectors have been optimised:
Ultra-thin

 with only 1 mm of silicone gel, they do not create discomfort in the shoe;

Easy to put in place

, you turn it upside down at the tip of your toe and gradually unroll it to cover your toe;

Very comfortable

thanks to ultra-soft fabric;

Very resistant to wear and tear

with a gel pad inserted between two layers of fabric, they are adapted to daily use;

Stay well in place

thanks to elastic and flexible materials;

Machine washable and reusable

many times;

Extra point: the gel toe protectors are created in our French laboratory and are made of quality French fabric!
EPITACT®'s advice
When several toes have a corn on their tip, EPITACT® recommends you the hammer toe cushions.
When a corn has formed on the top of a toe or between two toes, choose the corn removal pads DIGITUBES®.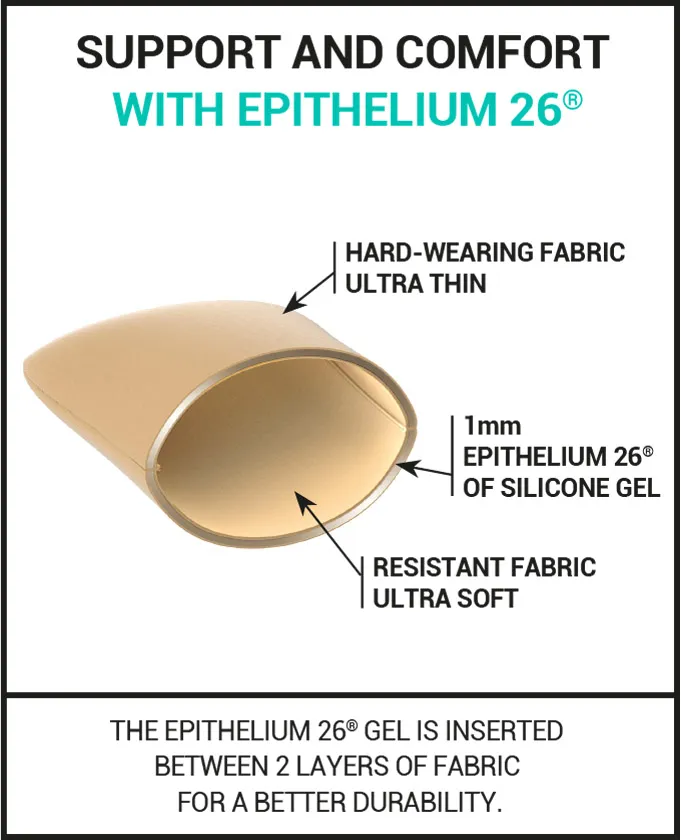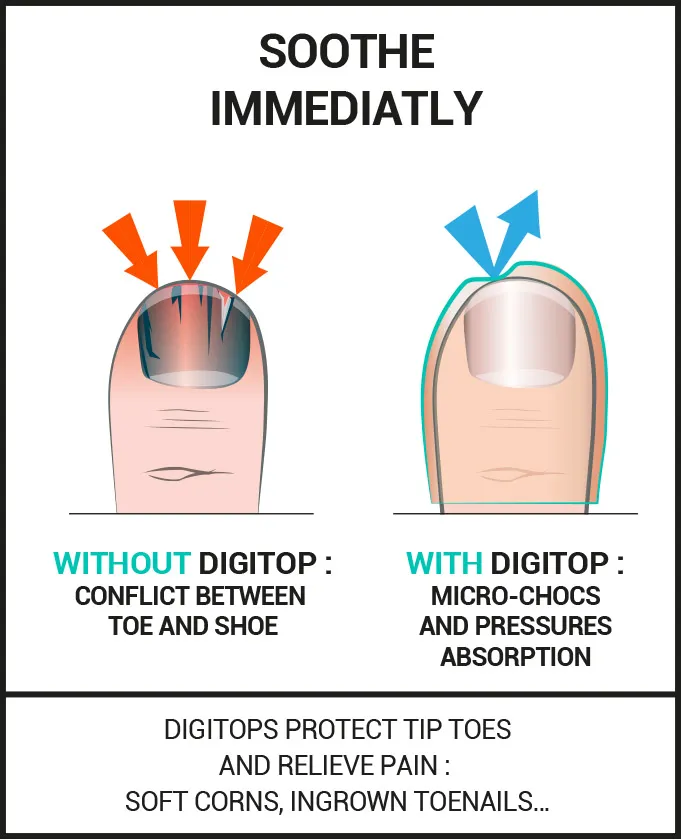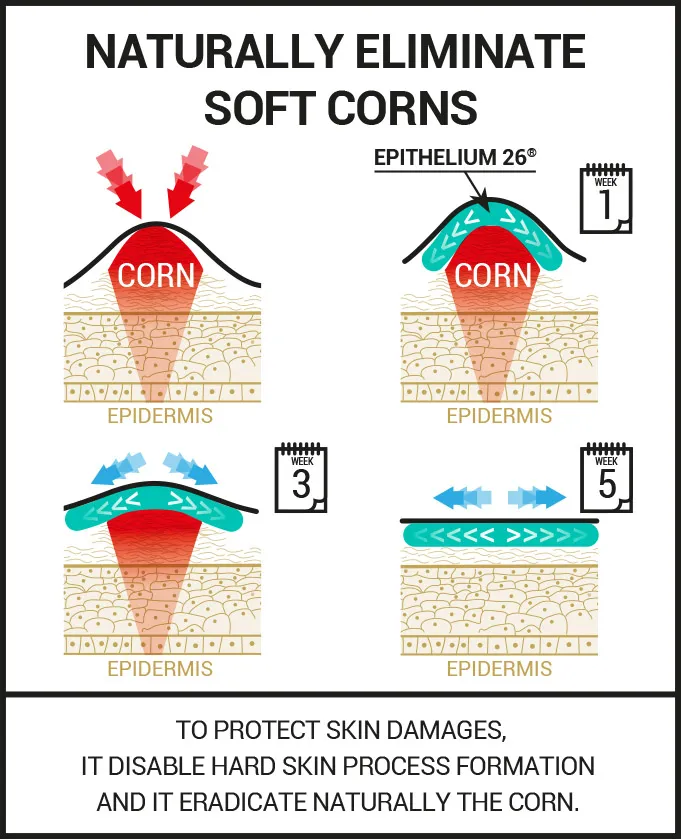 Features
Instruction for use

Ultra-thin

Ultra-light

Machine washable at 30°C

2 pieces - same size

Ultra-resistant

Tip of toes

Washing net provided

Ultra-comfortable
This solutions is a class I medical device that bears the CE marking under this regulation. Carefully read the instructions before use.
Manufacturer: Millet Innovation. 09/2019.
EAN Size S 3660396010907 - Size M 3660396010914 - Size L 3660396012031
TRUE/FALSE
To protect a corn, a thick layer of gel is more effective.
FALSE! Thickness is not necessary for full protection. On the contrary, if it is too thick, it will cause additional pressure and lesions on other toes. Therefore, it is essential to find the perfect balance between thinness and effectiveness. This is why EPITACT® decided to use just 1mm of EPITHELIUM 26® gel.
EPITACT Digitops are for single-use only.
FALSE! A corn should be protected long enough so that the process that creates hard skin is deactivated. The skin's cell renewal cycle is 4 to 6 weeks. It would be pointless to use single-use products for such long applications. The EPITACT® Digitops are washable and reusable several times.
One Digitop fits all toes.
FALSE! Several sizes of Digitops are available to fit all toes without any risk of slipping or over-tightening, especially between the big toe and the four lesser toes. These protections for toes exist in 3 sizes (S, M, L) which are adapted for men and women.