Provides arthritic knee support to stabilise and relieve painful knees on a daily basis.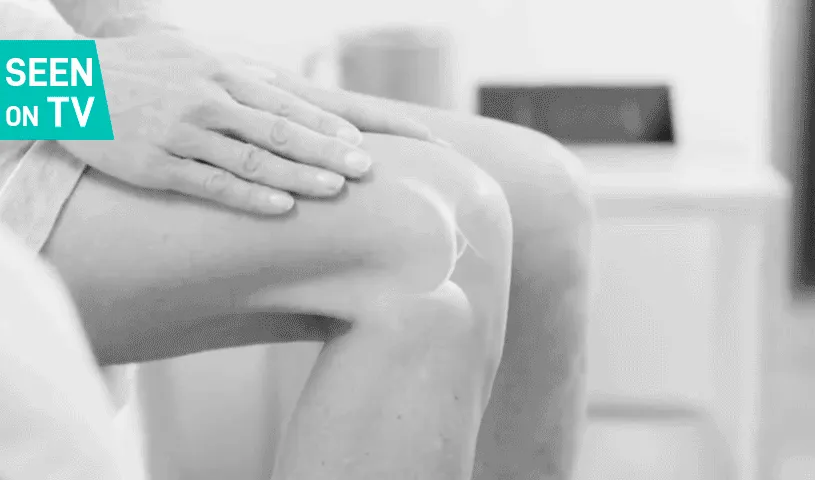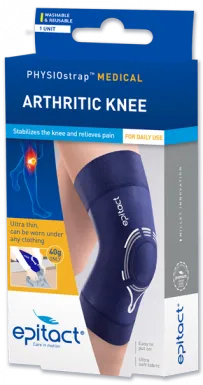 Delivered to you on
Tuesday 05 December
.
Choose the size
Add to cart
Choose your size


French innovation

Secure payment

Free shipping
Free shipping

AT LAST! A KNEE SUPPORT THAT CAN BE WORN UNDER ANY CLOTHING!
You have knee pain that limits your movements and your daily activities? You're looking for an effective and comfortable solution that could relieve knee arthritis? Discover and enjoy the EPITACT® knee support for arthritis PHYSIOstrap™ Medical.
Indications for the EPITACT® knee support for arthritis
The EPITACT® medical knee support brace is recommended for patella disorders like arthritis, especially osteoarthritis, fragile ligaments, patellofemoral pain syndrome… This kneecap support brace is adapted to daily wear to relieve knee pain during your activities.
Description of the arthritic knee support brace
Do you know that walking is crucial to fight against knee arthritis? Indeed, physical activity helps to "feed" the cartilage, so the more you move your joint, the better it works and so pain is relieved. This chronic condition requires day-to-day management and a solution adapted to your lifestyle.
To help you continue or recover activities (walking, shopping, gardening…), EPITACT® offers you a relevant solution: the PHYSIOstrap™ Medical. This knee brace supports and secures fragile and painful knees to relieve knee arthritis on daily living. As it stabilises the kneecap efficiently, it helps preserve joint mobility and slows down the progression of knee arthritis. It is very thin, entirely flexible and ultra-comfortable to allow for free movements. For even more relief, it maintains local warmth on the knee.
How does it work?
The medical knee support for arthritis is very effective and comfortable thanks to high-tech design and components:
The patented silicone tendon EPITHELIUMFLEX

™ stabilises to kneecap to avoid lateral deviations during movements.
The elastic silicone bands at both ends of the knee support brace allow it to stay very well in place. It does not slip on the tight nor rides up on the calf.
A thin fabric with limited compression and sufficient elasticity. This perfect balance allows to support the knee joint during movements without restricting them. Another fabric has been included over the knee cap, which is even more thin to not add pressure on the joint and behind the knee to not cause skin irritation.
Added advantages of the carpal tunnel wrist support by EPITACT®
The EPITACT® medical knee support for arthritis has been entirely thought out to gather many strong points.
Ultra-light (less than 40 g);
Ultra-comfortable;
No discomfort behind the knee;
Stay very well in place all day long;
Ultra-thin;
Can be worn under any clothes;
Adapted to daily use;
Machine washable and reusable for several months;
Soft, resistant and quality French fabric;
Available in 5 sizes (XS, S, M, L, XL);
Fits both right and left knee.
EPITACT®'s advice
For a perfect fit, wash the elastic silicone surfaces with water and soap after each use.
During physical activity, prefer the EPITACT® PHYSIOstrap™ Sport that provides increased support to the knee.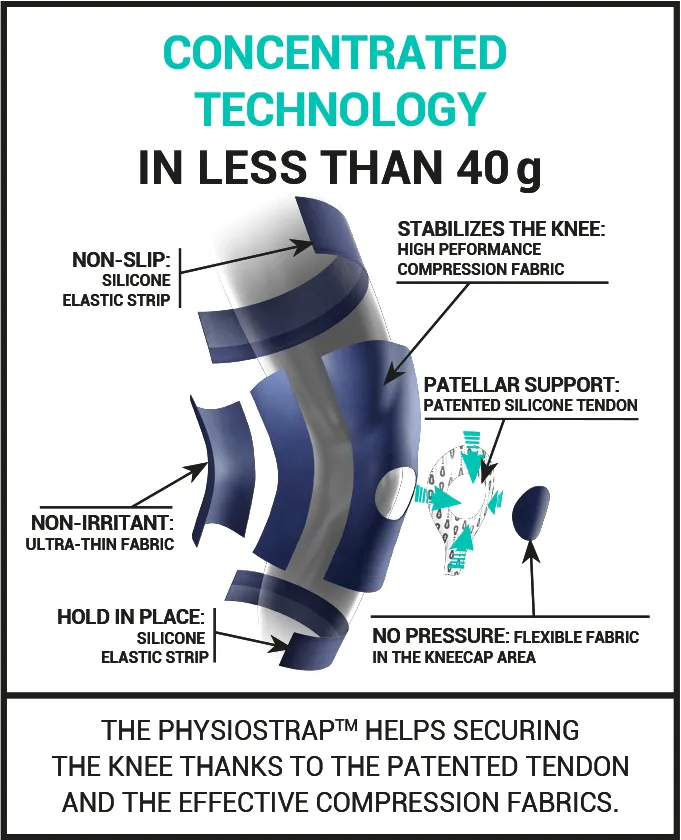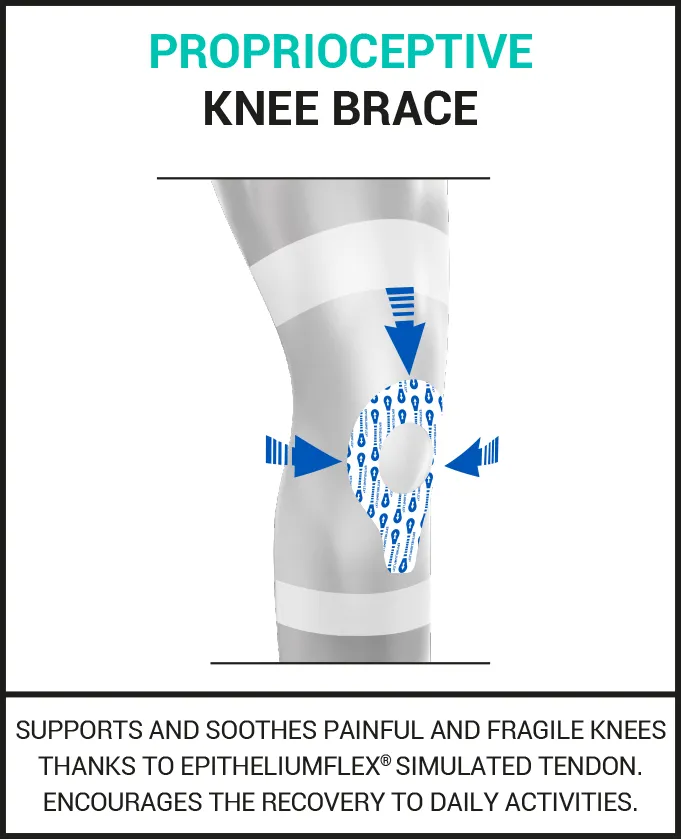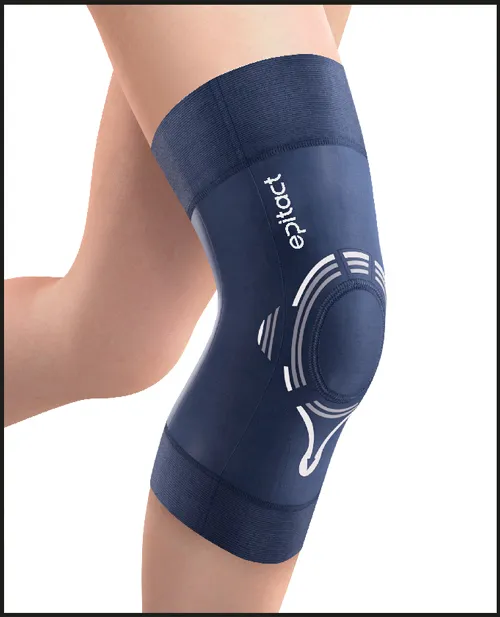 Features
Instruction for use

Ultra-light

Ultra-thin

Ultra-comfortable

Can be worn under any clothes

Machine washable at 30°C

Sold by the unit

Adapted for daily use

Can be worn on right or left knee
This solution is a class I medical device that bears the CE marking under this regulation. Carefully read the instructions before use. 
Manufacturer: Millet Innovation. 08/2019
EAN Size XS 3660396012246- Size S 3660396012253 - Size M 3660396012260 - Size L 3660396012277 - Size XL 3660396012284
TRUE/FALSE
The EPITHELIUMFLEX™ tendon is too flexible to maintain the knee.
FALSE! A study has shown that the lateral displacement of the patella is reduced by more than 43% in the presence of PHYSIOstrap™. This proves that even if the EPITHELIUMFLEX™ is flexible, the PHYSIOstrap™ is able to maintain the knee.
The PHYSIOstrap™ is for people who do a lot of walking.
FALSE! PHYSIOstrap™ has been developed for people with knee arthritis and is designed to be worn on a daily basis, by active but not necessarily sporty people. As part of a sports activity, the PHYSIOstrap™ Sport is more suitable because its pattern has been studied for this use and its holding has been optimised.
Knee arthritis is inevitable with age.
FALSE! Everybody can have arthritis or osteoarthritis and at any age! Although it is often associated with age, this cartilage wear and tear doesn't only affect the elderly. Indeed, this condition has many causes but its progression can be limited by managing the related risk factors. For example, fighting against overweight, treating potential injuries or protecting the joints during sport, professional or daily activities that involve their excessive use.