Big toe straightener that corrects the deformity and relieves throbbing bunion pain at night.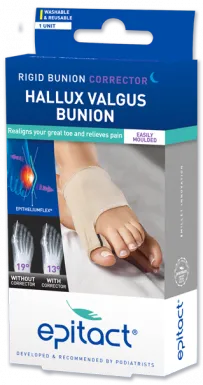 Delivered to you on
Tuesday 05 December
.
Choose the size
Add to cart
Choose your size


French innovation

Secure payment

Free shipping
Free shipping

ULTRA-COMFORTABLE NIGHT BUNION SPLINT WITH CUSTOMISED DEGREE OF CORRECTION!
During the night, rubbing and pressure of sheets and mattress against the bunion or joint pain can impede your sleep. You're looking for a solution that could relieve your throbbing bunion pain at night while it realigns your big toe? You want to enjoy peaceful nights again? Try the heat-mouldable EPITACT® night bunion corrector.
Description of the

night big toe corrector
The EPITACT® rigid bunion corrector protects, relieves and corrects bunion or hallux valgus. It alleviates nighttime joint pain and stops painful rubbing and pressure against the bunion. This bunion splint comfortably and progressively straightens the big toe to correct the deviation and thus limit its progression. The EPITACT® big toe straightener is heat-mouldable and allows customised and progressive correction of hallux valgus.
The rigid big toe corrector has been clinically proven effective. After 1 month of use, 30% of patients said having less joint and rubbing pain and 92% confirmed realignment of their big toe(1). Also, 85% of users are ready to recommend to relatives the bunion splint by EPITACT®(2).
Why and how to heat-mould the

bunion splint

?
The process of thermoforming consists of shaping the bunion corrector according to your own foot curves. It allows to gradually increase the degree of correction for comfortable and customised action. You can heat-mould it at home 4 to 5 times, in a few minutes. It includes 4 steps:
1- Place the provided silicone pad on the blue target against the bunion.
2- Soften the thermoplastic reinforcement by plunging the big toe straightener into hot water.
3- Straighten your big toe with the provided separator (the 1st time) or by hand (the next times).
4- Put on the brace and wait a few minutes until the reinforcement cools and becomes hard again.
How does the

night bunion corrector

work?
The effectiveness of the EPITACT® big toe straightener is based on a patented pattern that includes:
1) a heat-moulded reinforcement along the inside of the foot that adapts perfectly to your foot shape to provide customised correction and comfort.
2) a hollow area at the bunion that creates free space between the bump and the reinforcement to protect the affected joint from friction and pressure.
3) a thin silicone tendon along the reinforcement against the bunion helps the big toe corrector to stay well in place.
4) an elastic complex of fabric and silicone around the big toe that adapts to different sizes without impeding blood circulation. 
Added advantages of the EPITACT® rigid

big toe straightener
The night bunion corrector has many other assets. It is:
suitable for both right and left foot;
available in 3 sizes (S, M, L);
machine washable, reusable and made of resistant fabric so it can be used daily for several months;
very thin, light, soft and comfortable, so it does not disturb your sleep;
a French patented innovation using high-quality French fabric;
very easy to use and to heat-mould.
EPITACT®'s advice
Only wear the EPITACT®

bunion splint

at night or rest.

Do not wear it if your big toe can still move laterally.

Think about heat-moulding the

big toe corrector

before using it.
For relief during the day too, try the flexible

bunion corrector

 that straightens the big toe and relieves bunion pain while walking.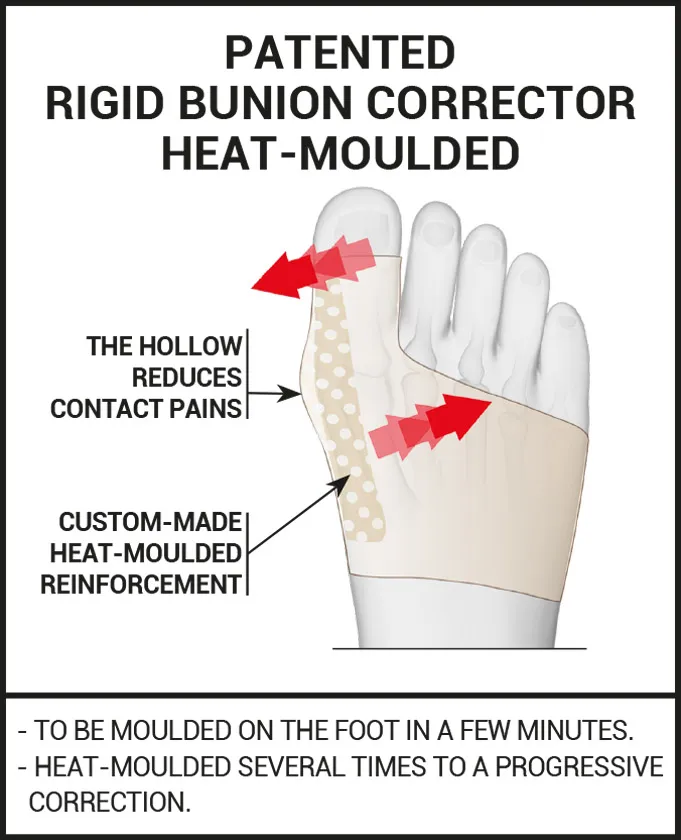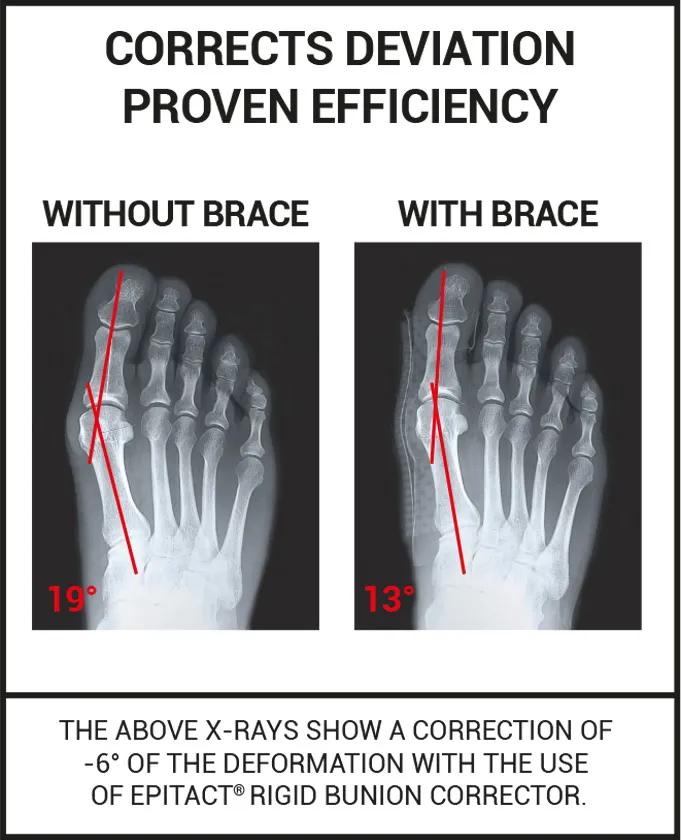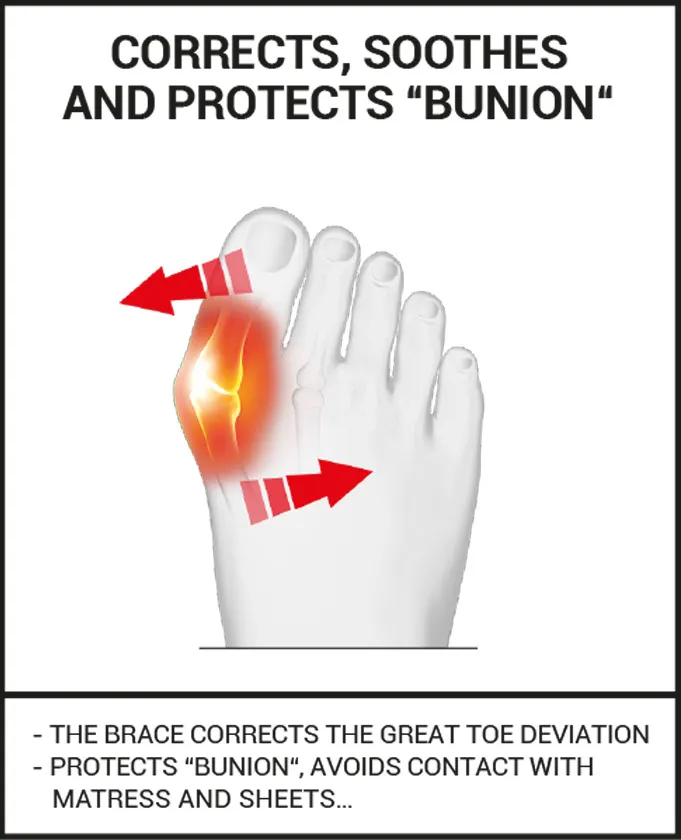 Features
Instruction for use
Thin

Can be worn on left or right foot

Customised correction

Machine washable at 30°C

Sold by the unit

Available in day version

Washing net provided

Ultra-comfortable
This solution is a class I medical device that bears the CE marking under this regulation. Carefully read the instructions before use. 
Manufacturer: Millet Innovation. 09/2019
Hallux valgus is a deformity that cannot disappear over time.
(1)Clinical evaluation carried out by Podyconcept in July 2015 on 15 patients.
(2)Survey conducted in 2016 on 65 users.
EAN Size S 3660396013700 - Size M 3660396013717 - Size L 3660396013724
TRUE/FALSE
Rigid night bunion correctors are like torture implements.
TRUE and FALSE! Most bunion orthotics on the market are rigid splints that can be very uncomfortable and stop you sleeping. This led the EPITACT® research team to develop an extremely comfortable solution: we use an orthotic that moulds its shape to your feet, adapting to your body type, and that does not sit in direct contact with your bunion.
The moulding process of the night big toe straightener is long and complicated.
FALSE! The rigid bunion corrector is quickly mouldable: it takes less than 10 minutes and is so straightforward that you can do it yourself at home, without any help! The product comes with printed instructions and there's an instructional video on our website. All you need to mould your big toe corrector is some boiling water and a heat-resistant bowl.
The rigid bunion splint can also be worn during the day to realign the big toe.
FALSE! During the day, the EPITACT® night big toe corrector doesn't fit everyday shoes because of the rigid and moulded reinforcement. This reinforcement makes walking difficult and is not intended to be used during activities. EPITACT® has also developed and patented a flexible big toe straightener for daytime use during walking.