Bunion support that relieves pain and corrects the deviation while walking.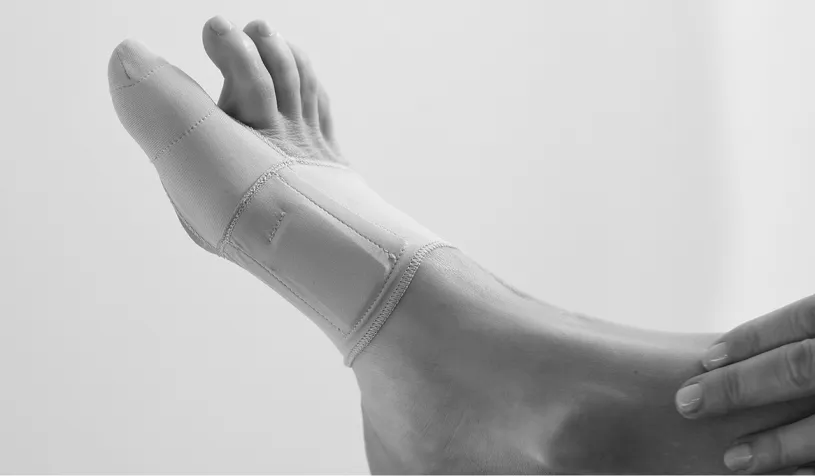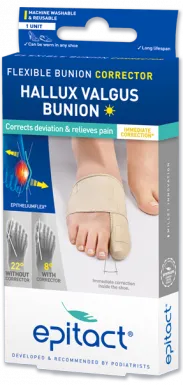 Delivered to you on
Tuesday 05 December
.
Choose the size
Add to cart
Choose your size


French innovation

Secure payment

Free shipping
Free shipping

A TOTALLY FLEXIBLE SUPPORT COMPATIBLE WITH SHOES THAT CORRECTS BUNIONS!
You're looking for a comfortable and effective big toe straightener that both corrects and relieves your bunion you could wear every day in your shoes? Stop searching it, you just find it!
Why use EPITACT® day bunion corrector?
Your big toe is drifting inwards and a bunion has formed on the side of your foot. This deformity is called hallux valgus. Sometimes, wearing shoes is very uncomfortable as it presses and rubs against this bony bump. The solution is to protect it and to straighten the big toe at the same time. That's exactly what the flexible bunion corrector does.
Description of the flexible bunion support
The EPITACT® flexible bunion corrector is a 2 in 1 big toe straightener and shield to frictions against the shoe. Indeed, by straightening the big toe, it reduces pressure and friction caused by the shoe against the bump. It is designed to prevent and relieve bunion pain during walking and daily activities.
After 1 month of use, 74% of patients who have tried the flexible bunion corrector declared having less joint pain and 76% said having less pain caused by rubbing(1).
How does this big toe straightener work?
This patented bunion support is very effective thanks to:
1) a silicone tendon of EPITHELIUMFLEX™ used to straighten the big toe as you stretch it backwards on your foot. This specific silicone also protects the bunion from pressure and rubbing against the shoe.
2) a gel patch made of EPITHELIUM™ that slightly pushes back the long bone before the big toe inwards to help it straighten.
3) a band of fabric surrounding the forefoot that helps limit its widening. This allows for best bunion support and makes it easier to wear shoes.
Characteristics of the EPITACT® flexible bunion corrector for day use
This flexible bunion corrector has been developed to offer you a solution as effective as comfortable.
Adapted to daily use in your regular shoes (unlike traditional splints).
Machine washable and reusable for several months.
Very thin, light and comfortable: you forget it all day long.
Quality, resistant and soft fabric with

thin and flat seams for better comfort.

Customisable degree of correction: by slightly and gradually stretching the fabric backwards on your foot, you straighten your big toe as wanted.
Adapted for both right and left foot.
Available in 3 sizes (S, M, L).
This innovation symbolises the great know-how of EPITACT®, French laboratory specialised in foot care for 25 years.
EPITACT®'s advice
Only use the EPITACT® bunion corrector for day if your big toe still moves laterally.
If you want to correct and relieve big toe joint pain at night, EPITACT® has also created a rigid bunion corrector. Both devices are complementary and allow for a day and night continuous action.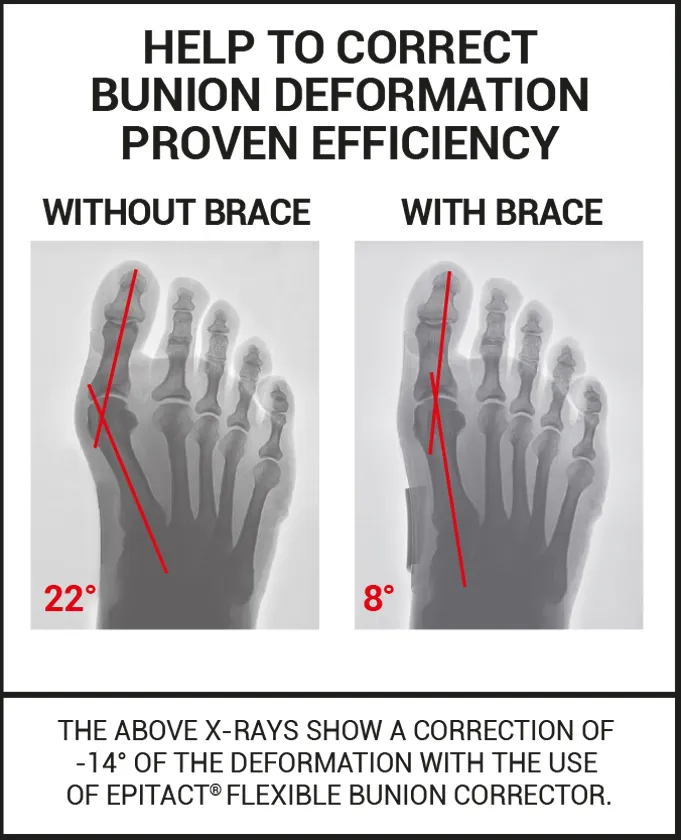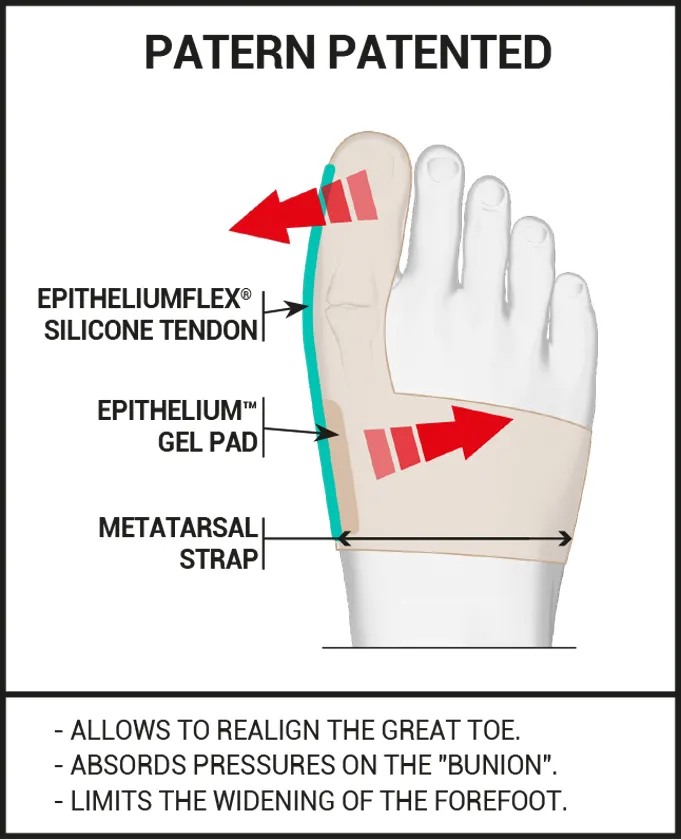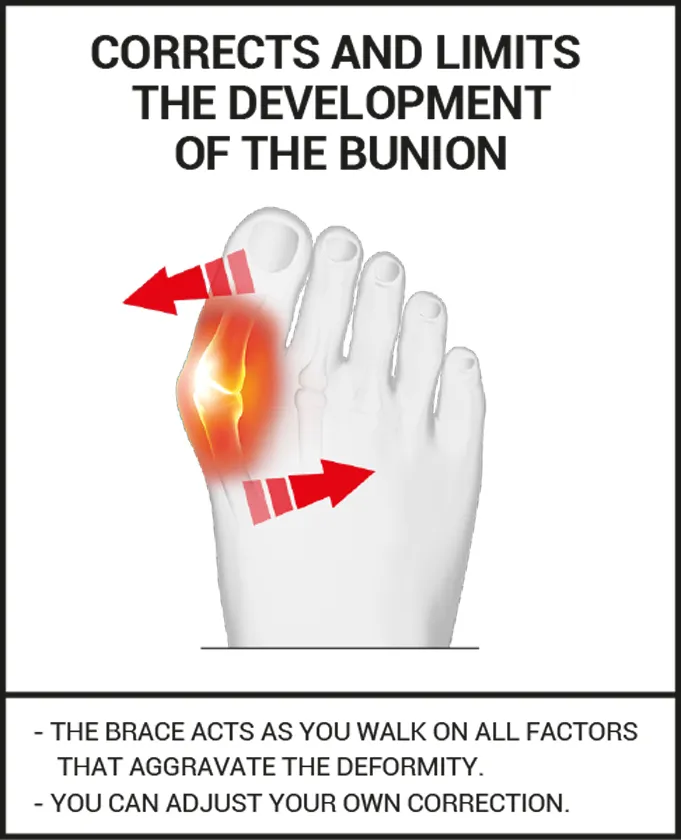 Features
Instruction for use

Sold by the unit

Ultra-thin

Can be worn on left or right foot

Machine washable at 30°C

Ultra-light

Ultra-comfortable

Washing net provided

Customised correction
This solution is a class I medical device that bears the CE marking under this regulation. Carefully read the instructions before use. 
Manufacturer: Millet Innovation. 09/2019
Hallux valgus is a deformity that cannot disappear over time.
(1)Study conducted in May 2011 including 39 users with a bunion.
EAN Size S 3660396008638 - Size M 3660396008645 - Size L 3660396008652
TRUE/FALSE
You can wear a rigid bunion corrector all day to realign your big toe.
FALSE! It is not really possible to wear a rigid big toe straightener during the day in "normal" shoes while moving around. And yet, most corrective orthotics on the market are rigid, and therefore only suitable for wearing overnight. The EPITACT® bunion corrector has been developed and patented to be used while you walk.
Flexible bunion supports cannot do enough to stop your big toe bending inwards.
FALSE! The EPITACT® flexible bunion corrector aims to combat the factors that cause the foot deformity when walking. It can be about compression of the forefoot, position of the big toe and the long bone with which it articulates (first metatarsal), etc.
There are lots of flexible big toe straighteners available online.
FALSE! Marketing can be misleading, especially online. They claim that mere bunion protectors are also able to play a corrective role. We advise you not to take things at face value: it takes more than a fabric protector with a gel pad to correct hallux valgus.