Gel bunion pad that protects and relieves bunion from pressure and friction.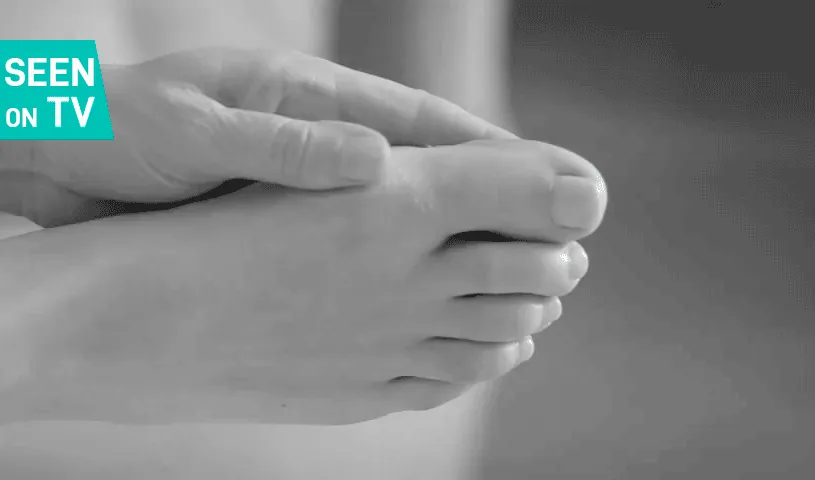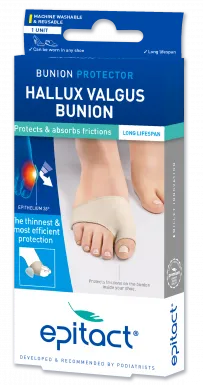 Delivered to you on
Tuesday 05 December
.
Choose the size
Add to cart
Choose your size


French innovation

Secure payment

Free shipping
Free shipping

AN EFFECTIVE PROTECTION FOR BUNIONS THAT'S ONLY 1MM THICK!
Your bunion (also known as hallux valgus) hurts in your shoes? EPITACT® has the solution: the bunion protector. For everyday use, this protection eases troublesome bunion pain caused by excessive contact with the shoe. It is especially recommended for advanced deformities or when the big toe no longer moves laterally. You can also use it at any stage if you feel pain in your shoes.
Description of the bunion protector
The EPITACT® bunion protector aims to prevent and relieve painful conflicts between the shoe and the bunion while walking.
Sometimes, bunions are so painful that wearing shoes can turn very uncomfortable, even if the bump is small or barely noticeable. Indeed, when walking, the bunion suffers repeated pressure and rubbing against the shoe, which can cause a lot of discomfort. In some advanced deformities, the forefoot has a triangular shape which makes wearing shoes as difficult as painful.
In those cases, inserting a special protection between your shoe and your bunion can help relieve pain. And this is exactly what the EPITHELIUM 26® silicone gel integrated to the EPITACT® bunion protector does best! This patented pad of just 1 mm thick on the bunion area provides effective cushioning, comfort and pain relief. Laboratory tested and approved, it has excellent skills to distribute pressure and stop rubbing on the skin.
How does it work?
The patented bunion protector is made of:
a flexible and elastic fabric that allows the protection to stay well in place throughout the day. This fabric is also extremely comfortable thanks to its softness and thin and flat seams that do not create skin sensitivity.
an ultra-thin silicone gel pad that does not add further pressure in the shoe and reduces pressure and friction on the bunion. Indeed, thinness is a core feature of a good bunion protector. Too thick, it would increase pressure inside the shoe and aggravate the deformity or have consequences for other parts of the foot. That's why EPITACT® has intentionally chosen a silicone pad of 1 mm thick for perfect comfort and effectiveness.
Added advantages of the EPITACT® bunion protector
The EPITACT® bunion protector is an extra-comfort device with many assets:
very easy and quick to put on;
soft and resistant fabric;
ultra-thin gel pad that goes unnoticed in the shoe;
adapted to daily use ;
French innovation using quality French fabric;
machine washable and reusable for several months;
compatible with all your regular shoes;
fits both right and left foot;
available in 3 sizes (S, M, L).
EPITACT®'s advice
If your big toe is still movable laterally, we recommend you the EPITACT® flexible bunion support that corrects the deformity while alleviating pain in the shoes.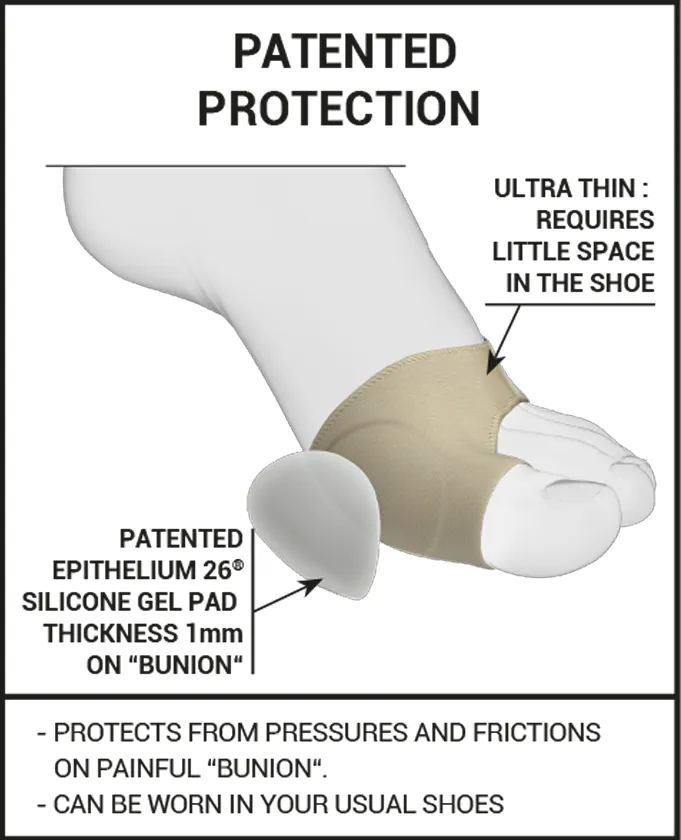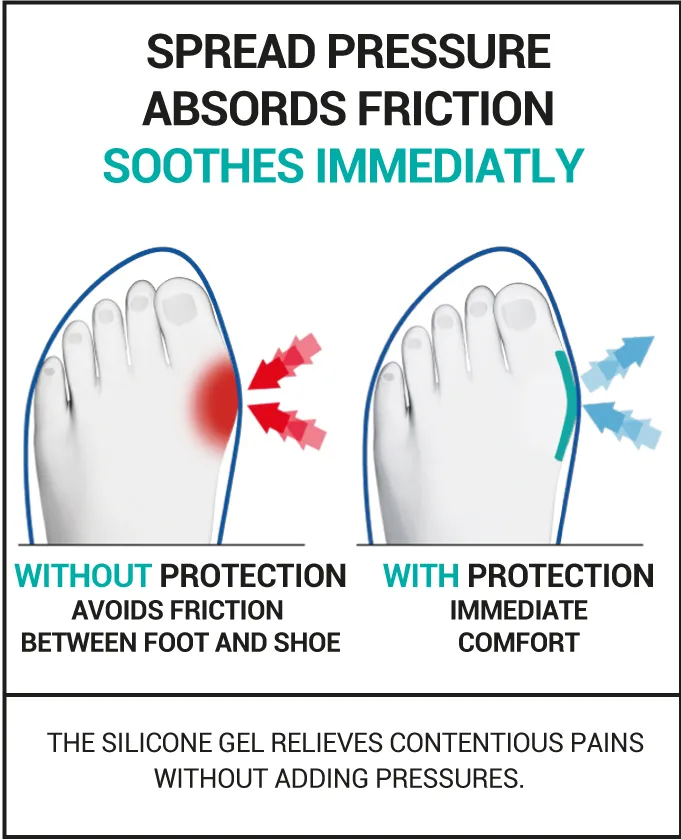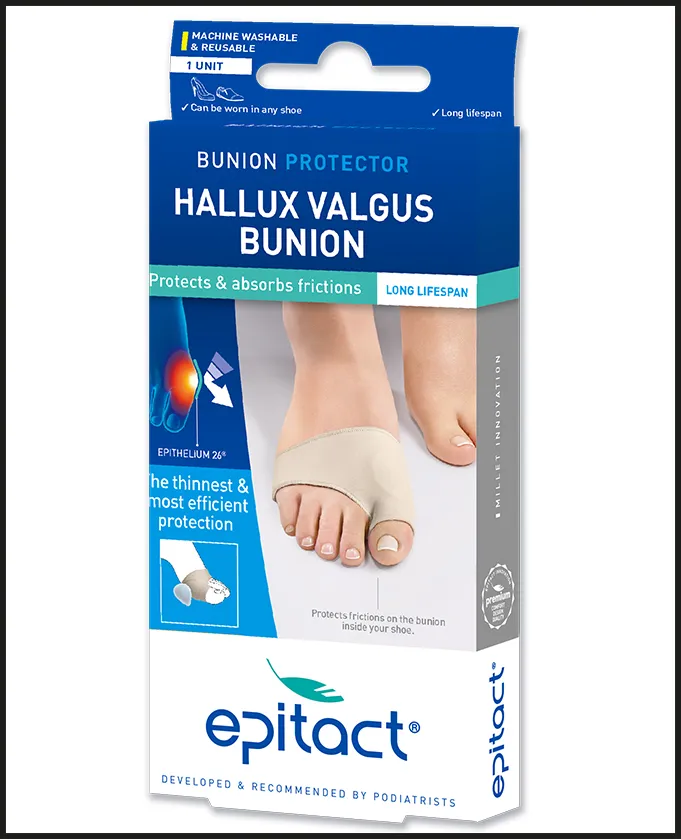 Features
Instruction for use
Ultra-thin

Ultra-light

Machine washable at 30°C

Sold by the unit

Ultra-comfortable

Washing net provided
This bunion protector is a class I medical device that bears the CE marking under this regulation. Carefully read the instructions before use. 
Manufacturer: Millet Innovation. 09/2019.
EAN Size S 3660396009024 - Size M 3660396009031 - Size L 3660396009048
TRUE/FALSE
The thicker the gel pad, the better the protection.
FALSE! Actually, placing a thick pad over your bunion takes up more volume in your shoe. As a result, more pressure is applied to your foot, especially around the bunion area. Therefore, the best solution is to make pads with optimal thickness so that they are effective while being as thin as possible. This is why the EPITACT® bunion protector is made with a gel pad that's just 1 mm thick.
Bunion pads can also realign your big toe.
FALSE! This kind of protection for hallux valgus, whether made by EPITACT® or a competing brand, are only designed to protect bunions from pressure and rubbing. To realign your big toe (as long as it still has some lateral mobility), you need a corrective support brace.
The bunion protector soothes but does not correct bunions.
TRUE! The EPITHELIUM 26® gel in the bunion protector relieves the bump from pressure and friction in the shoe and provides bunion relief. Ultra-thin and light, this protection for bunions can be worn in any footwear without creating additional discomfort. Very discreet, you will forget your pain throughout the day. To correct the deviation of your big toe, choose the flexible bunion corrector for day or the rigid bunion corrector for night use.