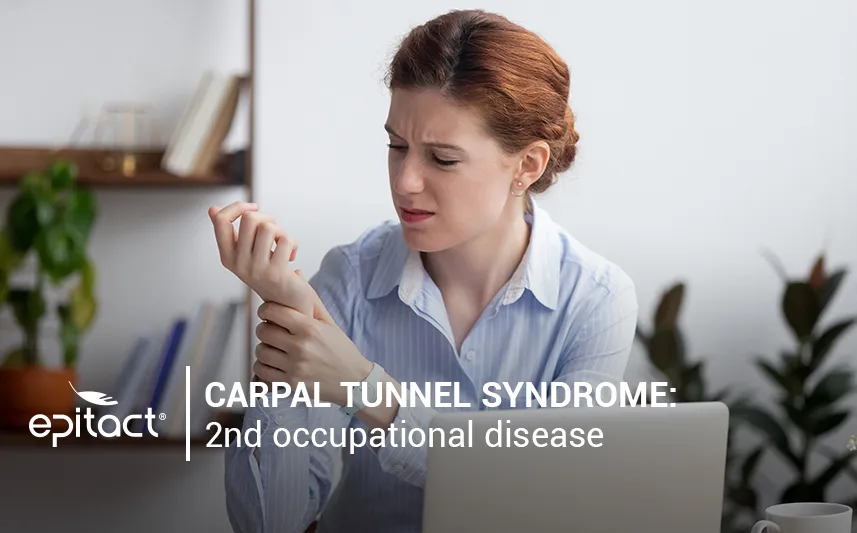 The most common symptoms of carpal tunnel syndrome are wrist pain, sensitivity impairment, tingling or numbness in the first three fingers and half of the fourth finger... These feelings are due to the compression of the median nerve at the base of the hand and can be very disabling at work.
Is carpal tunnel syndrome an occupational disease? Why is it often called a work-related injury? How to ease the pain at work? Read this article to know it!
Can carpal tunnel be an occupational disease

?
Carpal tunnel syndrome is the second condition admitted as an occupational disease (rotator cuff disease being on top of the list). Even if there are many aggravating factors, the progression of this condition can be slowed down by preventive actions.
Why

is carpal tunnel syndrome an occupational disease

?
CTS is attributed as an occupational disease because it often occurs due to repetitive tasks and daily gestures at work. However, there are conditions for it to be considered as a work-related injury. Indeed, it has to occur after the use of hand-held powered vibrating tools or repeated wrist flexion and extension movements for at least 20 hours per week, over half of the preceding 2 years(1).
Many jobs include aggravating factors of carpal tunnel syndrome due to the recurrence of movements that can damage the area in question. The incidence of CTS among workers is higher in women than men and varies according to the occupational category and industry sector(3). More than a third of patients with CTS undergo surgical treatment(2).
If the risks related to certain occupations were limited, it could avoid surgical interventions, pain, operative risk, post-operative complications or rehabilitation. Correlation between work and CTS seems obvious, but being aware of the aggravating factors can help reduce its incidence.
What

are the

risk factors for 

carpal tunnel syndrome

at work

?
Risk factors(3) are different from what causes the condition. However, they increase the probability of developing musculoskeletal disorders (MSD) like carpal tunnel syndrome.
Carpal tunnel syndrome is an occupational disease because it has risk factors directly related to work, especially manual and repetitive work duties. They are both biomechanical and psychosocial factors. Biomechanical factors are linked with physical constraints of the occupation: vibrations, repetition and difficulty of tasks, handling of loads, high force in the hands, duration...
As for psychosocial factors, they're associated stressors: social climate, deadlines, objectives, requirements, fatigue, stress, absence of support, autonomy... This combination of factors can cause overuse that often results in musculoskeletal disorders.
Other factors that are not related to an occupational context aid the development of this condition, namely: trauma (fracture, sprain...), inflammatory disease (arthritis) or metabolic disease (diabetes, endocrine diseases causing obesity or hypothyroidism).
What types of jobs can cause carpal tunnel syndrome

?
Some workers are more exposed to occupational diseases like carpal tunnel syndrome. For example, using a pneumatic drill in the construction industry context can be problematic. Wrist twisting in people who use a screwdriver or in mechanics using a spanner is also a risk factor. In addition, prolonged and repetitive motion, especially in hairdressers (use of scissors) or in physiotherapists increase the probability of having CTS.
Preventive and corrective solutions for carpal tunnel syndrome
Carpal tunnel syndrome is an occupational disease that could often be prevented. You can equip your workplace with ergonomic tools to avoid doing harmful wrist movements. Varying tasks, their duration, finding alternatives to reduce manual forces are all preventive solutions for carpal tunnel syndrome.
Also, ergonomic handles can be adapted for a number of tools. As they are More appropriate for the hand shape, they reduce poor movements.
There are flexible braces for activities that limit the stress on the wrist
Because carpal tunnel is a work injury, EPITACT® has created a flexible brace that you can wear during the day. Thin, discreet and available in several sizes, this wrist support brace has a special and innovative pattern based on proprioception. It means it provides sensory stimulation that unconsciously makes you reduce the movements that cause CTS. Flexible and comfortable, CARP'ACTIV™* by EPITACT®helps wrist rest.
And at night?
For more effectiveness, night splinting that stabilises the joint is an ideal solution. It immobilises the wrist in a neutral position to limit compression of the median nerve, and so pain.
Contrary to popular belief, the wrist doesn't rest all night! Often bent or placed under the pillow, pressure increases in the carpal tunnel and leads to pain. With this type of brace, the joint can rest.
EPITACT® has developed the CARP'IMMO™ brace* with semi-rigid and anatomical reinforcements that hold the wrist in a neutral position for more peaceful nights. For optimal results, it is advocated to wear the EPITACT® immobilisation braces for three months.
Drug treatments for CTS
As a complement to braces, drug therapy can efficiently ease the pain caused by carpal tunnel syndrome. On the advice of your GP, you could take analgesics (paracetamol) and non-steroidal anti-inflammatory drugs (ibuprofen).
To reduce pain, homeopathy and phytotherapy are also efficient. Lastly, 2 to 3 corticosteroid injections help to decrease swelling inside the carpal tunnel.
Is carpal tunnel an occupational disease? The answer is yes. Pain remains the main warning sign to the onset of a condition. However, this is not a fatality. By following the appropriate medical treatment, you would probably avoid its progression. Prevention and care are the best ways to improve comfort at work and put humans at the heart of companies.
*These solutions are class I medical devices that bear the CE marking under this regulation. Carefully read the instructions before use. Manufacturer: Millet Innovation. 07/2020
For more details about this general and simplified approach, here are further sources:
(1)Newington L, Harris EC, Walker-Bone K. Carpal tunnel syndrome and work. Best Practice & Research Clinical Rheumatology. juin 2015;29(3):440‑53. Carpal tunnel syndrome.
(2)Atroshi I, Zhou C, Jöud A, Petersson IF, Englund M. Sickness Absence from Work among Persons with New Physician-Diagnosed Carpal Tunnel Syndrome: A Population-Based Matched-Cohort Study. PLOS ONE. 24 mars 2015;10(3):e0119795.
(3)Petit A, Ha C, Bodin J, Rigouin P, Descatha A, Brunet R, et al. Risk factors for carpal tunnel syndrome related to the work organization: A prospective surveillance study in a large working population. Applied Ergonomics. mars 2015;47:1‑10.