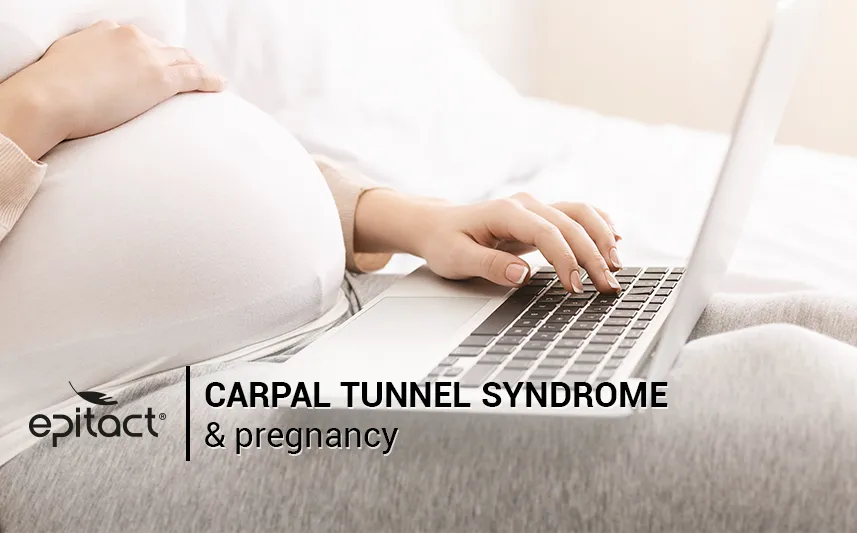 Carpal tunnel in pregnancy manifests with many symptoms like pins and needles in the hands, tingling, numbness and pain in the fingers. Why are women more likely to have pins and needles in their hands when pregnant?
EPITACT® tells you more about this condition which is common in pregnancy and gives you the solutions to relieve pain.



Carpal tunnel in pregnancy

:

pins and needles in the hands

,

numbness in the fingers
Having pins and needles in the hands when pregnant is a frequent symptom related to carpal tunnel syndrome.
Carpal tunnel syndrome (CTS) corresponds to the compression of the median nerve inside the carpal tunnel, located within the wrist. Carpal tunnel syndrome in pregnancy can also cause tingling in the hands and wrists, numbness in the fingers (the first three and a half fingers), and pain. Mainly occurring at night, the symptoms of this condition can impact the quality of your sleep(1).
Frequency of carpal tunnel syndrome in pregnancy
Pregnancy is characterised by morphological and physiological changes in the woman's body. These changes can lead to dysfunctions. Carpal tunnel in pregnancy is most frequent during the third trimester(2, 3) but it can also appear over the previous months(2, 4).
The prevalence reaches between 3 and 6% of the general population(5) and 7 to 62% of pregnant women(6). Therefore, these figures prove that pregnancy is a risk factor for carpal tunnel syndrome (2).
Why are

pins and needles in the hands when pregnant

so frequent?
During this period, some factors are added to the usual ones and increase susceptibility to CTS. Hormonal changes and fluid retention play an important role in the onset of carpal tunnel syndrome in pregnancy(3, 7). Fluid retention, caused by decreased efficiency of venous return, manifests with a local oedema that reduces the space available in the carpal tunnel and then puts pressure on the median nerve. Weight gain also increases the risk of having carpal tunnel in pregnancy(7).
Other anatomical factors aid the development of pins and needles in the hands when pregnant. Some of them are intrinsic and increase the volume inside the carpal tunnel, others are extrinsic and modify its contour(8). Even in the general population, women are more affected because of their anatomy: their carpal tunnel is usually narrower than men's.
How to relieve carpal tunnel pain during pregnancy

?
Many solutions exist to relieve pins and needles in the hands when pregnant. Because your symptoms will probably disappear after childbirth, medical treatments are recommended rather than surgery.
Wrist supports and braces
Some wrist, hand and finger movements are risk factors of carpal tunnel syndrome. Extreme flexions and extensions or repetitive hand movements increase pressure on the median nerve. Consequently, the first treatments for carpal tunnel in pregnancy mainly consist in limiting such compression.
To do that, wrist supports and braces that place the wrist in a neutral position or at a 20° angle are generally sufficient(9).
EPITACT® has created two braces for day or night to relieve pain and symptoms of carpal tunnel syndrome in pregnancy. The CARP'ACTIV™ wrist support for day* helps you correct risky movements by yourself but preserves the full function of your hand. Carpal tunnel symptoms are usually worse at night, so wearing a wrist splint to keep your wrist straight is helpful. CARP'IMMO™* immobilises the hand and rests the wrist to help you recover more peaceful nights.
Other treatments
If necessary, wrist support braces can be combined with local steroid injections. Drugs for pain and inflammation relief can also be prescribed.
Recommended as a last resort, surgery is performed under local anaesthesia in early pregnancy or after delivery. Symptoms usually disappear after delivery but in some cases, they can persist from the 6th month of pregnancy for up to 3 years after the birth of the baby.
Carpal tunnel in pregnancy is a common condition. If you feel pins and needles in your hands when pregnant, consult your doctor who will tell you what to do according to the severity of your symptoms. For more information about carpal tunnel syndrome, you can read: click here and go to the bottom of the page!
*These solutions are class I medical devices that bear the CE marking under this regulation. Carefully read the instructions before use. Manufacturer: Millet Innovation. 11/2021
For more details about this general and simplified approach, here are further sources:
(1)Aboonq MS. Pathophysiology of carpal tunnel syndrome. Neurosciences (Riyadh). janv 2015;20(1):4 9.
(2)Oliveira GAD de, Bernardes JM, Santos E de S, Dias A. Carpal tunnel syndrome during the third trimester of pregnancy: prevalence and risk factors. Arch Gynecol Obstet. sept 2019;300(3):623 31.
(3)Pazzaglia C, Caliandro P, Aprile I, Mondelli M, Foschini M, Tonali PA, et al. Multicenter study on carpal tunnel syndrome and pregnancy incidence and natural course. Acta Neurochir Suppl. 2005;92:35 9.
(4)Meems M, Truijens S, Spek V, Visser L, Pop V. Prevalence, course and determinants of carpal tunnel syndrome symptoms during pregnancy: a prospective study. BJOG: Int J Obstet Gy. juill 2015;122(8):1112 8.
(5)Eisenbud L, Ejadi S, Mar N. Development of carpal tunnel syndrome in association with checkpoint inhibitors. J Oncol Pharm Pract. avr 2021;27(3):764‑5.
(6)Padua L, Di Pasquale A, Pazzaglia C, Liotta GA, Librante A, Mondelli M. Systematic review of pregnancy-related carpal tunnel syndrome. Muscle Nerve. nov 2010;42(5):697 702.
(7)Wright C, Smith B, Wright S, Weiner M, Wright K, Rubin D. Who develops carpal tunnel syndrome during pregnancy: An analysis of obesity, gestational weight gain, and parity. Obstet Med. juin 2014;7(2):90 4.
(8)Genova A, Dix O, Saefan A, Thakur M, Hassan A. Carpal Tunnel Syndrome: A Review of Literature. Cureus . 19 March 2020
(9)Weimer LH. Neuromuscular disorders in pregnancy. In: Handbook of Clinical Neurology . Elsevier; 2020 . p. 201 18.