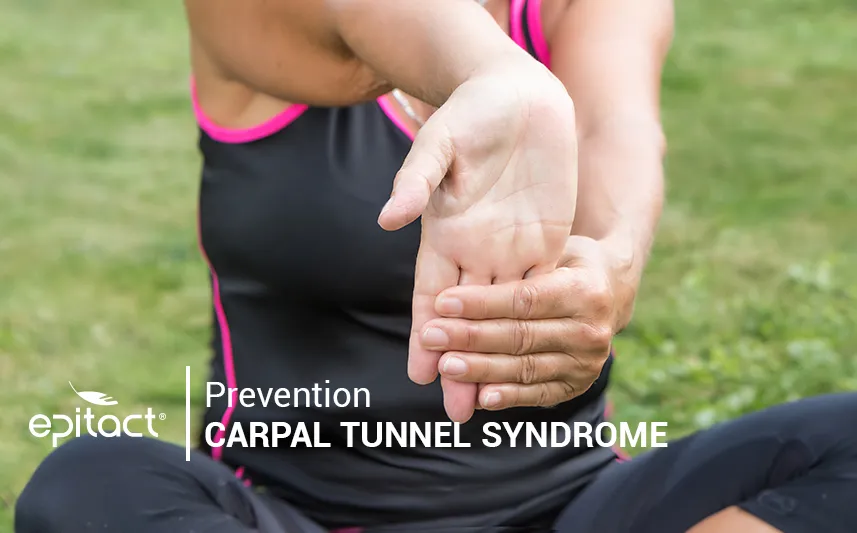 Before the onset of pain or tingles in your hands and fingers, some simple tips can help you avoid carpal tunnel syndrome (SCC). By being careful and correcting the risky movements of daily life, you could avoid the symptoms of carpal tunnel. Here are some tips to slow down the progression or to prevent carpal tunnel syndrome.
Tip n°1 to

prevent carpal tunnel: positions to avoid
Pain from carpal tunnel syndrome is due to compression of the median nerve inside the wrist. To try to avoid carpal tunnel syndrome, make sure that your hand is as often as possible lined up with the forearm, i.e in a neutral position. Indeed, extending or bending your wrists repeatedly increases such a pressure on the nerve.
To help you instinctively correct harmful movements, don't hesitate to wear a day flexible preventive brace for carpal tunnel syndrome. CARP'ACTIV™* by EPITACT®helps you correct the position of your hand and wrist thanks to an elastic fabric and a special design. Flexible, thin and soft, this brace is very comfortable and does not limit your range of motion.
At night, you can also wear a rigid brace that keeps your wrists straight. CARP'IMMO™* is designed to relieve carpal tunnel syndrome and avoid the pain when you sleep.
Tip n°2: avoid repetitive hand movements
It is well-known that repetitive motions are one of the main causes of carpal tunnel syndrome. Limiting them will allow you to reduce the risks of onset or of progression of pain. To prevent carpal tunnel syndrome, identify all the repetitive tasks you do. Get information about the equipment available to improve workplace ergonomics and do the same at home!
Wringing out a mop particularly uses the median nerve. This traumatic twisting movement of the wrist is even more harmful if it is recurrent! It is better to opt for a mop wringer rather than a simple mop.
You are one of those who types hard on the keyboard? Maybe using a computer mouse is part of your daily life? A dictation software could limit keyword typing and reduce the risks. You can also protect your joint from intense use of the mouse thanks to a wrist rest.
Also choose pneumatic pruning shears or electric hedge trimmer to relieve your joints and prevent carpal tunnel syndrome. However, be careful with vibrations...
Tip n°3: limit exposure to vibrations 

to avoid carpal tunnel syndrome
Some anti-vibration solutions can save your wrist when using electric devices (drill, hammer drill, hedge trimmer, chainsaw, etc.). Opt for tools with ergonomic handles for example. Ergonomic solutions to properly place the wrist while limiting vibrations exist for motorcycles and bicycles.
Tip n°4 for

carpal tunnel prevention

: reduce the frequency of your activities
If you ever had carpal tunnel syndrome and have identified the activity that caused it (work, physical activity, etc.), reduce the frequency and intensity of this activity. Making sure to regularly rest your joints is essential to help prevent carpal tunnel syndrome. Whenever you do repetitive movements or you force while your hands are very close or far from your body, think about getting frequent breaks. Indeed, this kind of movement also increases the risk of developing carpal tunnel syndrome.
Tip n°5: protect your wrists from cold
Cold contributes to muscle and tendon stiffness, or even reduces blood flow. To avoid carpal tunnel syndrome, wear gloves that keep your joints warm and limit the risks. With fingerless gloves, you preserve the sense of touch while protecting your hands. They can be added to work gloves to protect you from both cold and harmful activities.
Tip n°6:

hand exercises to prevent carpal tunnel
Lastly, you can do some simple hand exercises to prevent carpal tunnel syndrome or relieve the pain. Do not hesitate to consult your general practitioner so that he/she can prescribe you appropriate treatment. You could progressively do these exercises to relieve hand pain and stiffness, numbness and tingling.
This syndrome affects a lot of people and has both human and economic consequences that should be taken into consideration. More and more people who are exposed to higher risks take measures to improve their daily comfort. Carpal tunnel prevention remains an important lever to fight against this condition and its consequences.
*CARP'ACTIV™ is a class I medical device that bears the CE marking under this regulation. Carefully read the instructions before use. Manufacturer: MILLET Innovation. 11/2021