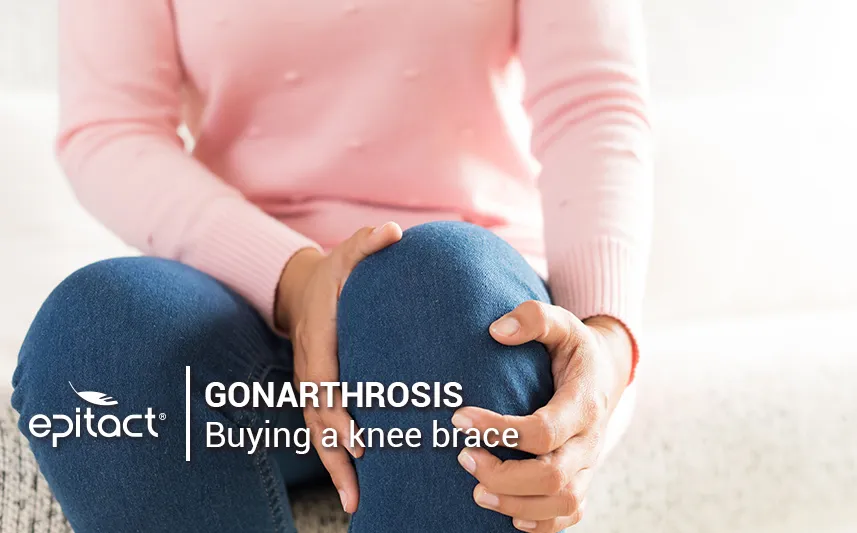 With the Internet, everything is easily accessible, but the overabundant supply and information aren't worth face-to-face advice! Pharmacy, specialty store, Internet... Where to buy a knee support brace that alleviates your pain? What are the main features to take into account?
To help you make the good choice, EPITACT® gives you several tips on some points to consider before buying a knee brace that adapts easily to your morphology.
Where to buy a knee support brace

: pharmacy, online, specialty store or manufacturer?
Each condition needs a specific knee sleeve combining holding, compression and comfort. The model you choose also depends on your age, pain and activity intensity. When you've decided which model is the most adapted to you, all you have to do is order it. To do so, several channels are possible:
Buying your knee

brace to the manufacturer
Advantages: by buying your knee support brace directly from the manufacturer, you'll limit the intermediaries and often reduce the delay. By this way, you're sure the brace is offered at the proper retail price. You also get the guarantee that it is the model you've chosen and not a low-quality foreign counterfeiting.
Disadvantages: not all manufacturers offer this service. EPITACT® has an online store to facilitate the access to comfort for private individuals.
On the Internet
Advantages:

buying your knee support 

online avoids going out. You can easily order from home, workplace or anywhere, just with your phone. On the website www.epitact.co.uk, delivery is free. Also, the comparison between products is easy since all of them are available online. Moreover, complete information to help you make a choice is also available on the Internet: videos on brace fitting, guide to choose your size, complete instructions, explanations about your knee injury, details on the knee brace design, etc.
Disadvantages: by ordering online, you can't receive face-to-face advice but only by phone or e-mail.
Buying a knee

support at

 t

he pharmacy
Advantages: by buying your knee brace in a pharmacy, you'll benefit from your pharmacist advice. Maybe you could also fit the knee brace to understand its positioning and ensure that the size is perfectly adapted to you. You will also have your knee brace immediately.
Disadvantages: going to a pharmacy implies going out and takes time. Not all pharmacies have enough stock to guarantee that the chosen model and the right size are available. However, you can ensure this by phone in advance to avoid useless travels.
The specialty store (running store, orthotic shop, etc.)
Advantages: in a store as in a pharmacy, you can get advice from the seller and often further customer reviews. The seller takes your measurements and you can immediately have your knee brace.
Disadvantages: going out is unavoidable and the store might not have your desired knee brace in stock. When it comes to

buying a knee support brace

for medical purposes, the seller's advice in a store is not as relevant as that of a health professional.
Buying a knee brace online: good practices
How to choose the correct size for a 

knee

support you buy

online

?
Some knee braces are available in several sizes in order to perfectly correspond with your morphology. Then, it may be recommended to measure your thigh circumference. In other cases, such as the EPITACT® PHYSIOstrap™ knee braces*, it is mentioned to measure the knee joint circumference while in a semi-flexed position by placing the tape measure at the centre of your kneecap and under the popliteal fossa (diamond shape region situated behind the knee).
Wearing a knee brace: how, how much time?
The knee brace fitting is detailed in the technical instructions provided with the device. EPITACT® recommends turning the two silicone parts of the knee brace inside out (holding straps) to unfold it easier on the thigh. To do so, don't pull on the top of the knee brace but place your hands inside to open it more. Then, adjust the device on your kneecap and unfold the holding straps previously turned inside out.
Each knee brace corresponds to specific use recommendations. Refer to the provided instructions and medical prescription. Do not hesitate to consult a specialist for more advice.
Maintaining a knee brace
Washing a knee brace regularly is crucial for good hygiene. It is possible to hand wash it with household soap or in a washing machine at 30°C. Then, air dry your knee brace. Washing the EPITACT® knee braces* frequently is important to ensure a perfect holding of the silicone straps on the skin.
Braces and supports are part of the medical treatments options to relieve pain caused by many knee problems. Do you want more information before buying your knee support brace? Please contact us by phone or send us an e-mail. Our team will be happy to answer your questions.
*These solutions are class I medical devices that bear the CE marking under this regulation. Carefully read the instructions before use. Manufacturer: Millet Innovation. 09/2021