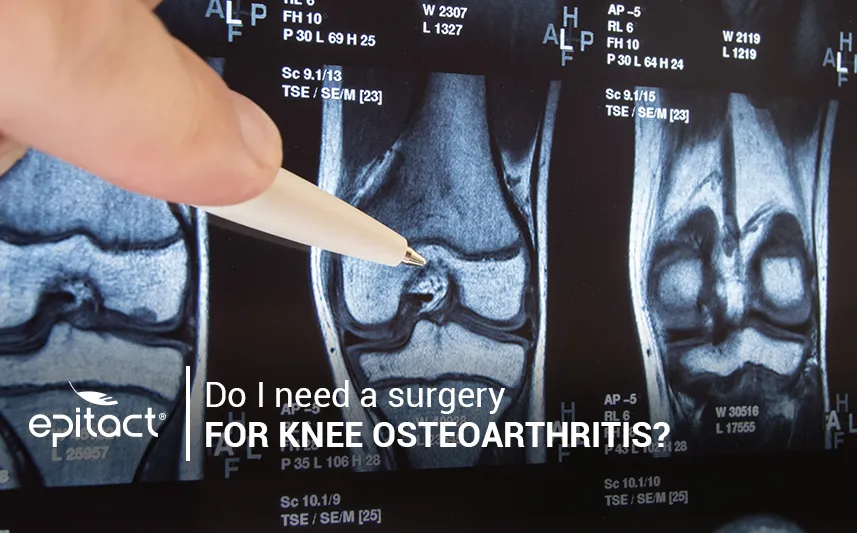 Knee arthritis, or knee osteoarthritis, causes irreversible damage to the knee cartilage but symptoms can be managed thanks to medical treatments options. However, if those are not successful (injection, anti-inflammatory drugs, etc.), getting knee osteoarthritis surgery can be the last option to get pain relief and improve your quality of life.
Indeed, if the functional handicap or knee pain become unbearable, surgery for arthritis in the knee may be the final decision. EPITACT® describes the three main types of surgery for knee arthritis: arthroscopy, arthroplasty and osteotomy.
What are the options before

knee arthritis surgery?
Before considering surgery for knee osteoarthritis, it is recommended to undergo conservative treatments. The most common ones include corticosteroid injections, non-steroidal anti-inflammatory drugs or the use of knee braces. EPITACT®, the joint comfort specialist, has developed a knee brace for patellofemoral osteoarthritis: the PHYSIOstrap™ Medical*. The silicone tendon combined with a technical fabric surrounds the kneecap to stabilise it. Particularly thin and light, this flexible knee support doesn't impede mobility and can be discreetly worn under clothes. A sport version* of this knee brace is also available. Discover here more details about the treatments of knee arthritis.
Do I need surgery for knee osteoarthritis?
Having or not surgery for knee arthritis is a legitimate question in case of intense joint pain and functional discomfort. Indeed, all surgical interventions present risks: infection, postoperative complications, anaesthesia or trauma for example. Therefore, it is important to take into account the intensity, frequency and duration of pain, and to assess the daily discomfort such as decreased mobility.
The stage of osteoarthritis of the knee and the affected cartilage area are also criteria that help in the decision whether or not to undergo knee arthritis surgery. In any case, a medical consultation is required to diagnose and choose the appropriate treatment. However, it is essential that the patient be volunteer and does not feel pressured: it facilitates the complete success of surgery for knee osteoarthritis and the recovery period.
What are the

types of surgery for knee arthritis

?
There are three main types of surgeries for knee arthritis: arthroscopic lavage, osteotomy and arthroplasty. The common goal of these knee osteoarthritis surgeries is to improve daily comfort of patients.
Arthroscopic knee surgery

for arthritis
Joint lavage in arthroscopic knee surgery consists in removing foreign bodies (cartilage fragments...) and adjusting the meniscus to facilitate the mechanical movement of the knee affected by osteoarthritis.
Knee osteotomy
Osteotomy is a surgery for knee osteoarthritis that consists in correcting the knee deviation to better distribute pressures. It is done by removing a small part of the tibial bone. As a result, the knee is realigned and supports are modified. This intervention is specially recommended for patients with genu varum (bow legs: the knees curve outward) or genu valgum (knock knees).
Knee arthroplasty surgery
Arthroplasty aims to replace the joint. It can be a total or partial knee replacement surgery (in the second option, only a unicompartmental prosthetic is implanted).
Physical therapy is necessary to improve the degree of flexion after knee arthritis surgery. Depending on each case, it can be completed by sessions with a physical therapist in the office or in a rehabilitation centre.
Arthroscopic

surgery for knee arthritis

: what durability?
An American study(1) including 180 patients concluded that after 24 months, people suffering from knee osteoarthritis who received arthroscopic lavage would get lower results (pain perception) than those who only had placebo incisions, without joint lavage. These researches, conducted in 2002, demonstrate the short-term benefits of such an intervention. Let's notice that this type of clinical study (placebo) is not authorised anymore by the research ethics committee.
To know if you need to get knee osteoarthritis surgery, you must see your general practitioner. The decision about the moment to do it and the type of surgery for knee arthritis depends on both your symptoms and the affected part of your knee joint. Learn more about the symptoms and diagnosis of knee osteoarthritis in the next articles.
*These solutions are class I medical devices that bear the CE marking under this regulation. Carefully read the instructions before use. Manufacturer: Millet Innovation. 09/2021
For more details about this general and simplified approach, here are further sources:
(1)Moseley JB, O'Malley K, Petersen NJ, Menke TJ, Brody BA, Kuykendall DH, et al. A Controlled Trial of Arthroscopic Surgery for Osteoarthritis of the Knee. New England Journal of Medicine. 11 juill 2002;347(2):81‑8.
EULAR recommendations for the non-pharmacological core management of hip and knee osteoarthritis - Ann Rheum Dis doi:10.1136/annrheumdis-2012-202745 - Published Online First 17 April 2013