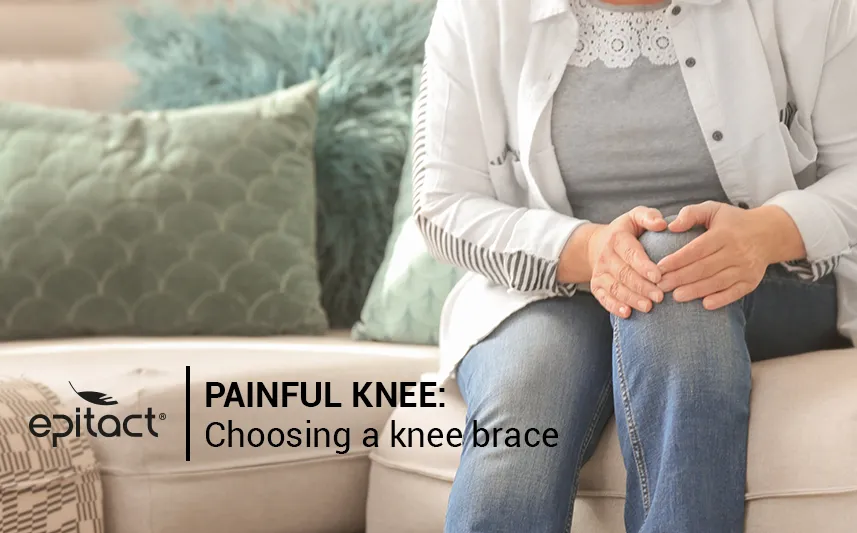 Some conditions and exercises cause pain in the knee. Arthritis and sports like running and walking are one of them. To relieve you, different types of knee braces have been created for specific conditions and activities.
But how to choose the best knee support for arthritis? What criteria do the best knee support for running meet? Discover the different types of braces and some pieces of advice to pick the right one for you.
What's a knee brace? 
A knee brace, or knee sleeve, is a medical device that protects, supports and/or immobilises the knee joint after a trauma. Depending on the condition you're suffering from and its intensity, several models exist: knee brace for ligaments, for kneecap or for immobilisation. These knee braces should be worn according to a health professional's recommendations.
Who can wear a knee brace? 
Knee braces are designed to people with knee injury affecting the joint, tendon or ligament but also to persons overusing their knees. Indeed, this kind of medical device supports the joint to strengthen its natural function and contributes to reducing pain. So, people with arthritis, patellar instability or ligament weakness can wear a knee brace, for example. 
Why do your knees hurt? 
The knee is one of the most used joints. In daily life, it supports the weight of the body, absorbs the shocks and facilitates movements. Whether we have sports activities or not, corpulence changes as well as the consequences, pain and conditions.
In some cases, knee pain can be associated with an accident like cruciate ligament rupture. In other cases, repeated microtraumas can contribute to progressive deterioration of the knee joint: this is the case of knee arthritis. To palliate these pains, solutions exist! 
Three types of knee support braces
There is a wide range of knee braces for different pain, but we can identify three main types.
Ligament knee braces
The ligament knee brace is used in the first stage of ligament lesions (strain without tear, pain or significant swelling) or during the transition to an immobilisation knee brace, in addition to physiotherapy (on a physiotherapist's recommendations). It is ideal for activity recovery after knee sprain or cruciate ligament rupture. It can also be considered as a reassuring presence in the daily life or during sport activities.
Patella knee braces
The patella knee brace* relieves pain in the kneecap (flat bone in front of the knee). It aims to hold it in its natural track. Perfectly adapted to daily activities, this type of knee brace is often recommended for people with knee arthritis, chronic laxity of the knee, chondromalacia patellae , patellar syndrome or patellar tendinopathy. 
Immobilisation knee braces
Hinged braces and splints that immobilise the knee are often prescribed by a health professional right after a trauma. It is used to immobilise the joint while your knee recovers from the injury or after surgery. It is never recommended to wear such a brace daily or during sports practice.
How to choose the best knee support for arthritis

?
Knee arthritis is a painful condition that worsens over time. Pain usually increases during flexion and extension of the knee or prolonged sitting position. Because it is chronic, the knee should be protected on a daily basis. And because it is a device that you are going to wear every day, comfort should be the main criteria for the best knee support for arthritis.
The EPITACT® PHYSIOstrap® Medical knee brace for arthritis has been developed combining comfort and effectiveness to provide pain relief. Indeed, it has a soft, light and very thin fabric so it does not limit your range of motion and fits under all types of clothes. Also, it includes the EPITHELIUMFLEX™ technology: a silicone tendon that surrounds the patella to limit its lateral deviation and stabilises the knee during movements.
What is the best knee support for elderly

?
Older people are often affected by arthritis. Moreover, their skin tends to be more fragile, thin and sensitive. The best knee support for elderly should be made of soft and comfortable fabric, unlike knee compression sleeves which are often thick and uncomfortable.
To develop the PHYSIOstrap® medical knee support brace*, EPITACT® has chosen French quality fabrics, very soft, flexible and light (less than 40g!). The fabric behind the knee and over the knee cap is thinner so it does not irritate the skin, nor apply pressure on the patella.
How to choose the best knee support for running

, walking, skiing…?
What do athletes expect from the best knee support for running, walking, skiing and sports in general? What do you think of a knee brace that stabilises the knee efficiently, that stays perfectly in place, that has optimal comfort and that never hinders movement?
This is the case for the PHYSIOstrap® Sport by EPITACT®*. This knee support for runners and sportspersons has specially been developed for people with knee pain during sports caused by patellofemoral pain syndrome or patellar tendinopathy. Sports like running, walking, skiing and football overuse this joint due to repeated flexions and extensions of the knee.
Therefore, this device includes a technical silicone tendon that stabilises the kneecap. Its effectiveness has been tested and approved by professional and amateur athletes from the French National Institute of Sport, Expertise, and Performance (INSEP).
The best knee brace at a fair price 
Knee braces are medical devices. Therefore, the manufacturer offers a suggested retail price to distributors who can accept it or not. This can explain the differences in prices that may be observed between different sales channels or pharmacies. 
In addition, several criteria allow to establish the fair price for a knee brace. One of the first criteria is the work that precedes innovation by the laboratory developing the brace. Then, the quality and origin of the materials that compose the protection are very important. Silicone is a material with many properties but its production cost is higher than other materials like injected plastic. Lastly, performances of the technical fabrics and their origin play a major role in the final price. The mode of production and distribution of the knee brace should also be taken into account. 
EPITACT® has chosen local and quality materials to create lasting solutions, whose lifespan is estimated at 6 months if you carry out regular maintenance (washing, drying). 
The

best knee support braces

are available in several sizes
Once you know what is the best type of knee support for you, opt for the correct size by following the manufacturer's recommendations. EPITACT® suggests 5 sizes (XS, S, M, L, XL) to make sure that you find the right one for you.
You have discovered how to choose the best knee support for arthritis and the best knee brace for walking and sports. If you still have doubts about the best knee support brace for you, do not hesitate to consult a health professional (GP, physical therapist, pharmacist...). 
*These solutions are class I medical devices that bear the CE marking under this regulation. Carefully read the instructions before use. Manufacturer: Millet Innovation. 02/2022