Alternate a day flexible and a night rigid bunion straightener for optimal effectiveness.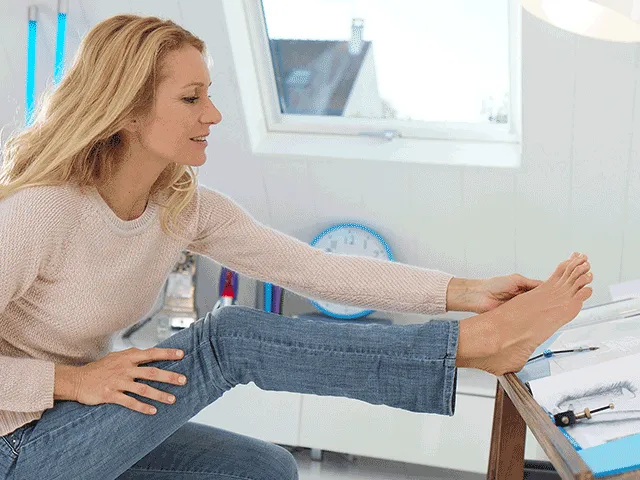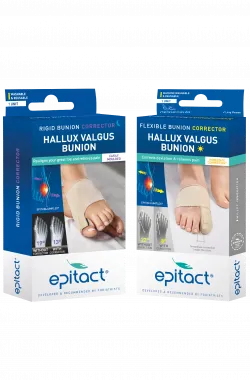 Delivered to you on
Tuesday 05 December
.
Add to cart

French innovation

Secure payment

Free shipping
Free shipping

TWO BUNION CORRECTORS TO RELIEVE PAIN AND STRAIGHTEN THE BIG TOE ALL DAY LONG.
You have a bunion that causes you night joint discomfort and pressure-related pain in your shoes during the day? EPITACT® gives you the opportunity to relieve and correct your bunion round the clock while adapting to the different times of the day. Enjoy this EPITACT® exclusive offer that includes a flexible bunion support for day and a rigid bunion splint for night.
The flexible

bunion support

for day use
The flexible bunion straightener has been developed to straighten the big toe and relieve pain in the shoes caused by pressure and friction against the bunion. Because it is only made of flexible and thin materials, it fit any of your everyday shoes. At last, it allows for a customised correction as you slightly and progressively stretch the fabric backwards on your foot over the uses.
The rigid

bunion splint

for night use
The rigid bunion straightener corrects the deformity and relieves big toe joint pain during your sleep. It also alleviates bunion pain caused by pressure and friction against bed sheets, mattress…
The distinctive feature of this bunion corrector is that you heat-mould it to adapt it to your own foot shape. In addition to increasing your comfort, this process allows for customised and progressive correction of the deformity. Please find all the instructions in this video to heat-mould your bunion splint at home in a few minutes.
Added advantages of the EPITACT® 

bunion straighteners
Since both EPITACT® bunion correctors have positive effects on the deformity and pain when used separately, combining their use throughout the day can only be beneficial. Moreover, they have been designed to guarantee optimal comfort and effectiveness:
adapted to daily use;
machine washable and reusable for several months;
very thin, light and comfortable;
quality, resistant and soft fabric;
very easy to use;
customised degree of correction;
adapted for both right and left foot;
available in 3 sizes (S, M, L);
authentic as they are created in our French laboratory specialised in foot care for 25 years.
EPITACT®'s advice
Do not wear these bunion straighteners if your big toe no longer moves laterally. If it is your case, try the bunion protector to relieve your pain in your shoes.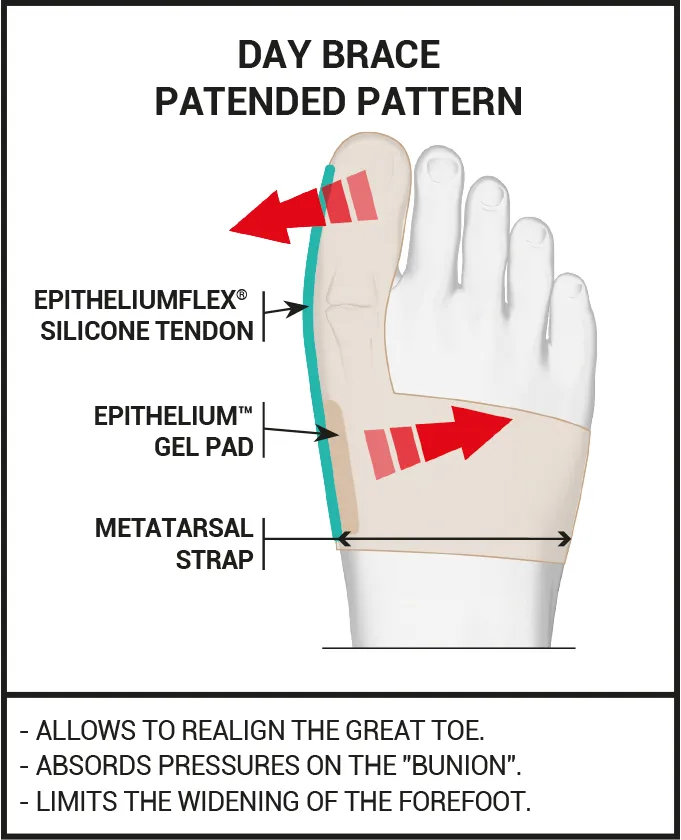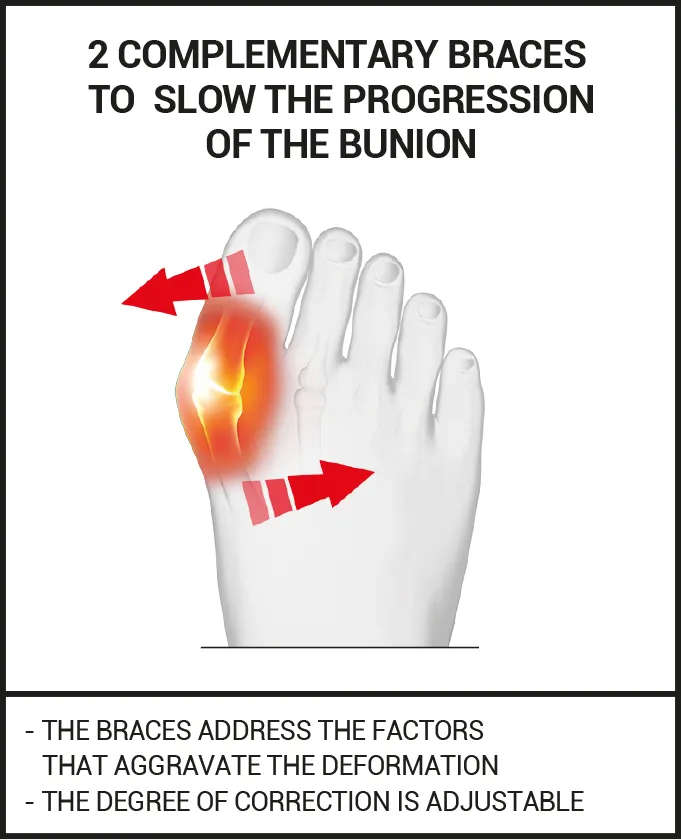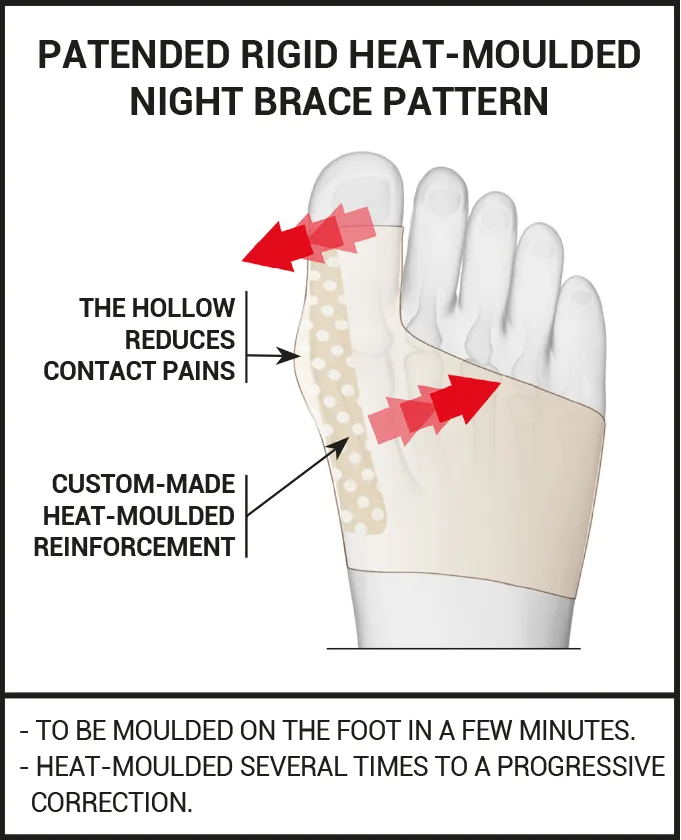 Features
Instruction for use

Bunion correctors for day and night

Thin

Machine washable at 30°C

Customised correction

Ultra-comfortable

Can be worn on left or right foot
These solutions are class I medical devices that bear the CE marking under this regulation. Carefully read the instructions before use.
Manufacturer: Millet Innovation. 07/2021
Hallux valgus is a deformity that cannot disappear over time.
DAY FLEXIBLE BUNION CORRECTOR
EAN Size S 3660396008638 - Size M 3660396008645 - Size L 3660396008652
NIGHT RIGID BUNION CORRECTOR
EAN Size S 3660396013700 - Size M 3660396013717 - Size L 3660396013724
TRUE/FALSE
Given that the night bunion splint and day bunion support act the same way, I can switch them.
FALSE! Even if the objective is the same, they're used differently. The rigid reinforcements of the night bunion corrector are not compatible with most shoe models. During the day, being on the move, wearing a rigid splint would be restrictive and inappropriate. The thinner and flexible day brace is adapted for walking and daily activities.
At an advanced stage, a bunion straightener has a curative effect.
FALSE! Neither the rigid nor the flexible bunion corrector can be used if the big toe no longer moves laterally. Both devices are recommended for mild to moderate hallux valgus, hence the importance of early care!
I can correct the deformity faster by exaggerating heat-moulding of the night bunion corrector.
FALSE! The angle of correction of the deformity in case of bunion must be gradual. The EPITACT® rigid bunion straightener has been specially designed to be heat-moulded up to five times. If the correction is excessive, you may experience additional joint pain.