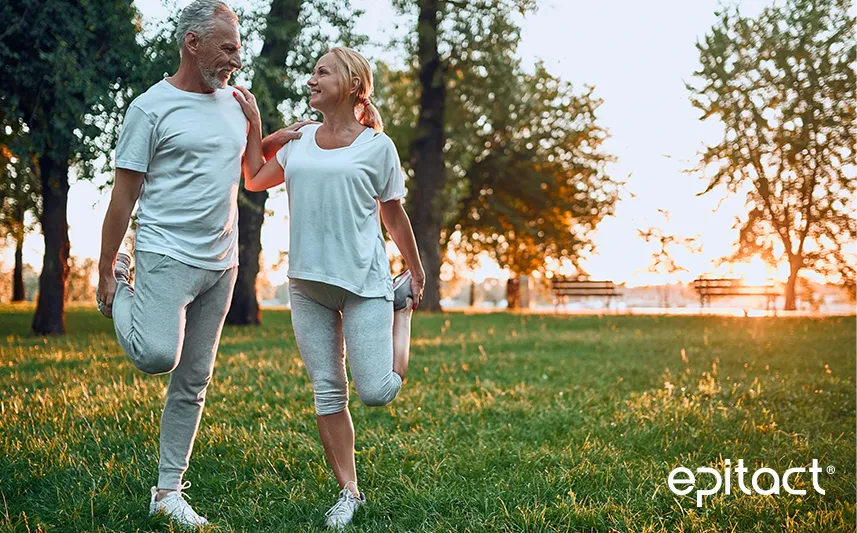 There are several ways to get arthritis knee pain relief. It is well known that age increases the risk of developing arthritis, or more specifically osteoarthritis. Indeed, this knee condition affects 16% of people aged 15 and over and almost 23% of people over 45 years(1).
It corresponds to the progressive deterioration of the cartilage within the knee joint (either the tibiofemoral or the patellofemoral joint). This wear and tear of the cartilage causes intense pain and limits more and more the range of motion and the ability to do the daily activities.
So, what helps arthritis in the knees? What are the options available to get pain relief for arthritis in the knee? Here are some helpful tips!
7 ways to find

pain relief for arthritis in the knee
Apart from prostheses, there is no curative treatment for knee arthritis. The only medical treatment relieves the symptoms, namely pain. But sometimes, pain become so unbearable that patients are suggested surgery to replace the damaged part of the bone by an implant.
Before such an invasive option, you can follow other therapeutic pathways aiming to help arthritis in the knee: medications, weight management, physical exercises, acupuncture, knee braces and spa therapy.
Pain reliever for arthritis in the knee
Pain relief for arthritis in the knees can be obtained with medicines like non-steroidal anti-inflammatory drugs (NSAIDs) or corticosteroid injections. They ease pain and inflammation.
Weight loss for

knee arthritis pain relief
Losing weight is good for mental and body health, but also for your joints and especially your knees! It decreases pressure on the joint and limits the knee cartilage degradation.
To help you losing weight, choose a physical activity that is adapted to your stage of knee arthritis and your physical condition. With time, knee arthritis pain decreases and you gain muscle strength in your quadriceps and hamstrings. Strengthening the thigh muscles helps to protect and stabilise your joint better.  
If you're already practising a sport, be careful it is not an additional source of knee pain. Especially at a high level, sports activities can expose to a higher risk of knee arthritis. If you notice it causes joint pain, adapt your practice so that it limits microtraumas to the knee. To help you choosing and doing the proper sport, consult a sports physician who will give you some advice.
Physical therapy and exercises
Physical therapy is one of the best ways of getting arthritis knee pain relief. Indeed, exercises of muscle strengthening play a significant role in the reduction of joint pain related to knee arthritis(2). They enable patients to continue their activities.
 
Acupuncture
Acupuncture is part of the Chinese medicine. It consists in inserting very thin needles in specific parts of the body in order to reduce or stop pain. In the short term, this technique would relieve arthritis pain in the knee(3).
 
How do knee support braces

help arthritis in the knee

?
One of the first goal of a knee brace is to provide pain relief for knee arthritis. By the way, the European League Against Rheumatism (EULAR) and the American College of Rheumatology (ACR) advocate their use(4). They are both highly recognised organisations in the field of rheumatology.
There are different types devices for this knee condition. The simplest devices are flexible and elastic compression knee supports, which are popular for their thinness. They aim to preserve joint mobility and relieve arthritis pain in the knees. They are prescribed when the patellofemoral joint is affected.
PHYSIOstrap™ Medical: a comfortable and daily knee support brace for arthritis
EPITACT® has developed the PHYSIOstrap™ Medical*, a knee support made of a silicone tendon that surrounds the kneecap to stabilise it during movements. Very light and thin, you can wear it all day long and it goes under any unnoticed under any clothes: it is specially adapted to chronic conditions like arthritis.
PHYSIOstrap™ Sport: a technical knee support brace for arthritis adapted for sports
The PHYSIOstrap™ Sport* by EPITACT® is designed to be worn for shorter periods of time, during sports or physical activities. It guarantees great support thanks to its two elastic silicone strips at its extremities. Therefore, it allows to fully enjoy your practice without impeding your comfort or movements! It also offers good arthritis knee pain relief.
Orthopaedic insoles provide

relief for arthritis knee pain
A patient with knee arthritis can also wear insoles to fight against static disorders. Indeed, the orthopaedic insoles that are prescribed for knee osteoarthritis modify the mechanical properties of the lower limbs. Therefore, they bring pain relief for arthritis in the knee by limiting the movements responsible for it.
Spa therapy
Spa therapy includes all techniques using thermal water. It is a natural mineral water with medicinal properties which comes from hot or warm springs. Spa therapy would be helpful for knee arthritis pain(5). On the one hand, patients highlight pain reduction, and on the other hand, they attest improvement of their functional abilities.
Now you know the principal ways to find arthritis knee pain relief. For additional information, read our article about the treatments of knee arthritis and surgery.
*These solutions are a class I medical devices that bear the CE marking under this regulation. Carefully read the instructions before use. Manufacturer: Millet Innovation. 09/2023
For more details about this general and simplified approach, here are further sources:
(1)Cui A, Li H, Wang D, Zhong J, Chen Y, Lu H. Global, regional prevalence, incidence and risk factors of knee osteoarthritis in population-based studies. EClinicalMedicine. 1 Dec 2020;29‑30:100587.  
(2)Fernandes L, Hagen KB, Bijlsma JWJ, Andreassen O, Christensen P, Conaghan PG, et al. EULAR recommendations for the non-pharmacological core management of hip and knee osteoarthritis. Annals of the Rheumatic Diseases. 1 Jul 2013;72(7):1125‑35.  
(3)Miladi S, Boussaa H, Sellami M, Souabni L, Ouenniche K, Kassab S, et al. Intérêt de l'acupuncture dans le traitement de la gonarthrose. La Revue de Médecine Interne. 1 Jun 2021;42:A132‑3.
 (4)Geenen R, Overman CL, Christensen R, Åsenlöf P, Capela S, Huisinga KL, et al. EULAR recommendations for the health professional's approach to pain management in inflammatory arthritis and osteoarthritis. Ann Rheum Dis. 3 May 2018;annrheumdis-2017-212662.   
 (5)Tenti S, Cheleschi S, Galeazzi M, Fioravanti A. Spa therapy: can be a valid option for treating knee osteoarthritis? Int J Biometeorol. 1 Aug 2015;59(8):1133‑43.