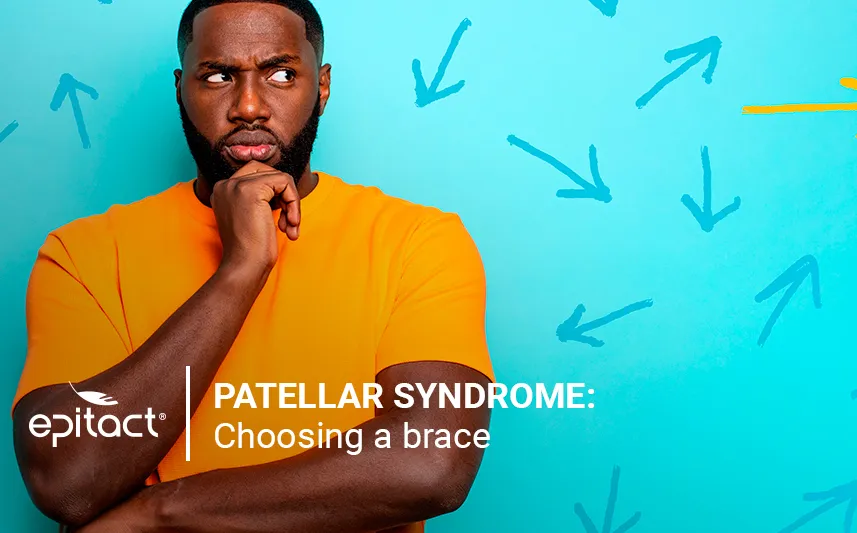 You have patellofemoral pain syndrome, also called runner's knee. Your knee hurts and have heard about knee support sleeves that could relieve you. But, you do not know how to choose the best knee brace for patellofemoral pain syndrome (PFPS) among all the models available.
EPITACT®, care in motion specialist, sheds light on the essential criteria for choosing the best knee support for patellofemoral pain syndrome.
Why should you wear a

knee brace for patellofemoral pain syndrome

?
Knee braces for patellofemoral pain syndrome help to stabilise the kneecap to prevent or limit the progression of the condition(1). However, you should combine their use with other medical treatments, even though they are effective at supporting and securing the joint. Wearing this type of device is particularly recommended in addition to active physical therapy and rest(2).
Knee braces aim to reduce pain in people suffering from knee pain, no matter if it is a joint, tendon or ligament involvement. They allow stabilisation of the knees, especially during sport practice or for resuming daily activities.
Among the best

knee sleeves for patellofemoral pain syndrome

, discover EPITACT®!
Before choosing the best brace for patellofemoral pain syndrome, you should take several criteria into account.
A brace adapted to the condition
 Let's remember that there are three different types of knee braces for various knee conditions: ligament, patella or immobilisation knee braces. For PFPS, you will need a patella knee brace, i.e a device that supports and stabilises your kneecap while it preserves your range of motion (unlike immobilisation braces).
Indeed, this condition occurs when there is an abnormal tracking of the knee cap against the thigh bone. The patella slides in a track called the trochlear groove during knee movements. As a consequence, the patella deviates laterally resulting in the cartilage wear and tear and progressive onset of pain in front of the knee.  
Discover the different types of knee braces in another article.
A device that supports and stabilises the knee efficiently
The EPITACT®knee braces for patellofemoral pain syndrome include a patented technology: the silicone tendon EPITHELIUMFLEX™. By surrounding the kneecap, it provides effective joint support and stabilises the kneecap by avoiding its lateral deviations during knee movements.
A knee support that does not restrict range of motion
The knee braces for PFPS by EPITACT® are entirely flexible, unlike many hinged knee braces that have rigid metal sides. However, they are made of a technical fabric with limited compression that secures your movements and gives you a feeling of security. Contrary to compression knee sleeves, they do not cause risks of impeding the blood flow.
In addition, EPITACT® has created two different braces that bring pain relief during different activities: PHYSIO'strap™ Medical* is for the daily life, whereas PHYSIO'strap™ Sport* is for physical activities (knee joint support and ability to stay in place are strengthened).
Both knee braces for patellofemoral pain syndrome are perfectly appropriate to continue or resume your daily and sports activities.
Patellofemoral pain syndrome: a brace adapted to daily use
In order to make its knee braces very comfortable and adapted to daily wear, EPITACT® uses a specific design and a French quality fabric.
Firstly, the fabric is soft and elastic but is above all very thin, especially on the kneecap and behind the knee, not to put pressure on the joint or cause irritation in the crease behind the knee! It also allows wearing it under any type of clothes. Note that they are washable and reusable for around six months (provided you follow the maintenance instructions correctly).
A PFPS knee brace that fits anybody
The EPITACT®knee sleeves for patellofemoral pain syndrome fit both the right and left leg. Plus, they are available in 5 sizes. There is no doubt you'll find the appropriate one for you!
How to choose the right size for a

knee brace for patellofemoral pain syndrome

?
Choosing the appropriate size of knee support brace is crucial. The best knee brace for patellofemoral pain syndrome should be perfectly adjusted to your morphology, hence the importance to take precise measures.
Begin by measuring your knee's circumference with a flexible tape measure. To do so, put the tape in the centre of your kneecap, the knee being in a flexed position. Take note of the measurement obtained. Then click on "Choose the size" under each EPITACT® knee support brace and compare your measure (centimetres) with the table available. 
Who can advise on the

best knee support for patellofemoral pain syndrome

?
To choose your knee brace for PFPS, several health professionals can help you. Your GP, physical therapist, orthopaedist or pharmacist can advise you about the most appropriate knee support sleeve for you. Do not hesitate to contact us for more information or advice: we will be happy to answer your questions!
*These solutions are class I medical devices that bear the CE marking under this regulation. Carefully read the instructions before use. Manufacturer: Millet Innovation. 07/2023
For more details about this general and simplified approach, here are further sources:
(1)Evidence Based Conservative Management of Patello-femoral Syndrome.,"/pubmed/25207305","Rodriguez-Merchan EC.","Arch Bone Jt Surg. 2014 Mar
(2)Nonsurgical Management of Knee Pain in Adults.,"/pubmed/26554281","Jones BQ, Covey CJ, Sineath MH Jr.","Am Fam Physician. 2015 Nov 15