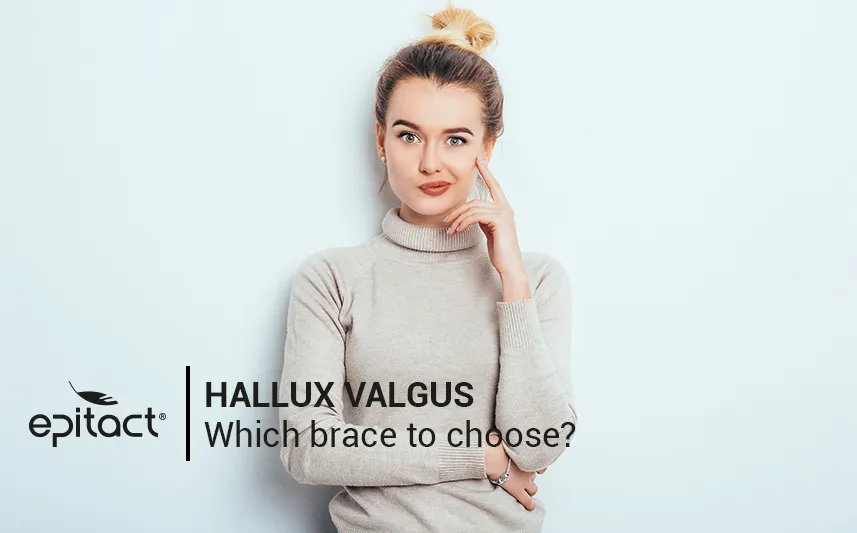 You are looking for the best bunion corrector or bunion brace, but many factors are to take into account before choosing the right one. Those factors include the stage of the deformity and the activity you're doing. Indeed, there are bunion night splints and day bunion correctors that protect and correct the deformity.
However, many devices are available online or in pharmacies. Then, what criteria do the best bunion nights splints and braces meet? EPITACT® helps you choose the most effective bunion corrector.
How to choose the best bunion corrector according to your specific needs? To help you choose what bunion corrector is the best for you, let's first discover what kind of device you need.
What are your symptoms and needs?
Before choosing a bunion corrector, you must know the stage of your deformity and your needs. Among the next two points, see which one corresponds to you:
1) You have a mild or moderate deformity and your big toe still moves laterally. This means you can correct the deviation. The product you need is usually called a bunion corrector, a bunion brace or a bunion splint (sometimes also a big toe straightener). There are models for night*, for day* and also for sports*.
2) You have an advanced deformity and your big toe is stiffened and can't move laterally. The only solution is to protect the bunion from painful contact with the shoe with a bunion pad or bunion protector*. This can relieve you until surgery, which is unfortunately the only permanent solution to this irreversible foot deformity.
What are the

best bunion correctors

?
Bunion correctors have three major purposes: they prevent the pain, protect the bunion and realign the big toe. As we've mentioned above, there are bunion braces for day and bunion splints for night. Both are bunion correctors.
Criteria for choosing the

best bunion corrector

for day
During the day, wearing shoes may be conflicting with your bunion. This pain can become disabling and restrict your activities. So what do you want from a corrective bunion brace that you can wear during the day? EPITACT® has developed a device that is totally flexible, which realigns your big toe progressively. It is:
ultrathin

: it fits any types of shoes;

made of resistant and quality materials

: it is adapted to daily use;

you can adjust the correction

by pulling gently the fabric backward on your foot;

very comfortable

with a soft and light fabric.

very easy to use:

you put it on like a sock and it holds correctly all day long.
79% of patients observed a realignment of their big toe after 1 month of use. Moreover, around 75% said their joint and friction-related pain decreased with the EPITACT® day bunion corrector*(1).
If you practice a regular physical activity, the flexible bunion brace for sport* will optimise the propulsion by providing full support while realigning the big toe. 
Criteria of the best bunion night splints
During the night or at rest, you may suffer pain in your big toe joint and uncomfortable friction and pressure between your bunion and sheets or mattress. The best bunion night splints immobilise your big toe in a corrected position and are perfectly comfortable so that they do not disturb your sleep. EPITACT® has created a bunion night splint* that reaches this goal as it is:
very thin and light

;

heat-mouldable

: it adapts to your foot shape for more comfort;

heat-mouldable several times:

it allows for progressive and custom-made correction;

very easy to use

: you heat-mould it in a few minutes at home, it is machine washable and reusable for several months.
In addition, it has a proven efficacy: 92% of patients observed a realignment of their big toe after 1 month of use(2).
How do bunion correctors work?
Bunion correctors have two major purposes: they provide foot pain relief and realign the big toe. As we've mentioned above, there are bunion braces for day and bunion splints for night. Let's take the case of the EPITACT® day and night bunions correctors:
the flexible bunion brace for day* has a technical fabric that pulls on the big toe to give it back a proper alignment. It also includes a special gel pad on the bunion that absorbs friction and relieves pressure from the shoe. It fights against all the factors that contribute to the development of bunions while walking (e.g.: position of the big toe and first metatarsal…).
the rigid bunion splint for night* has a thermoplastic reinforcement that keeps your big toe straight. During the process of heat-moulding, a hollow is created on the reinforcement which protects the bunion from painful contacts.
Which size for a bunion brace?
To know your foot circumference, take a flexible tape measure and wrap your foot where the joint of your big toe begins. If your measure is between two sizes proposed by the manufacturer, always prefer the size below to have a well-adjusted brace. If the size is too large, folds could form and cause irritations.  A too large brace won't play its role and won't realign your toe efficiently.
Refer to the instructions related to the product to make sure you're making the good choice.
Receiving advice to choose the best bunion corrector
Your general practitioner can help you choose the proper brace to relieve your pain. A podiatrist or orthopaedist can also advise you to find the more adapted device: nothing can replace the opinion of a health professional!
Finally, your pharmacist can assist you in choosing the size or design the most appropriate for you.
On the online shop EPITACT®, both returns and delivery are free: if the size or design does not correspond to you, exchanges are facilitated. We hope you will find the best bunion corrector thanks to our experience. EPITACT® gives you more details about the causes, treatments and symptoms of bunions.
*These solutions are class I medical devices that bear the CE marking under this regulation. Carefully read the instructions before use. Manufacturer: Millet Innovation. 07/2021
Sources:
(1) Clinical evaluation conducted by Podyconcept in May 2011 on 39 patients with hallux valgus.
(2)Clinical evaluation conducted by Podyconcept in July 2015 on 15 patients with hallux valgus.