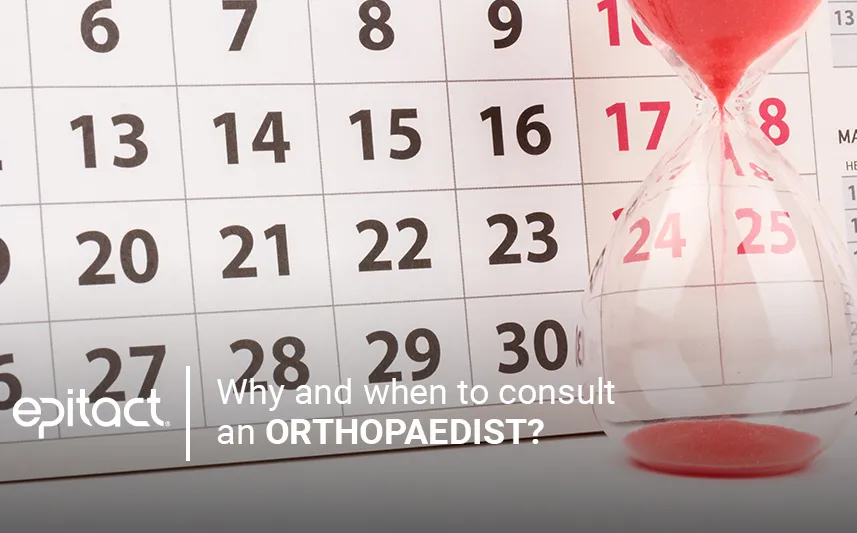 When you are suffering from pain, the best way of stopping it is to see a healthcare professional. But how to know which physician to see? When and for what type of pain? There is a specialist for every problem, and the orthopaedic surgeon is one of the leading figures in the medical profession.
What does an orthopaedic surgeon do? Who is he? Why and why to see him? EPITACT®, expert in podiatry and orthopaedics for 25 years, answers all your questions.
What is an orthopaedic surgeon?
As its name suggests, the orthopaedic surgeon has skills in the field of orthopaedics. This medical speciality consists of preventing, diagnosing and treating bones, ligaments, muscles and tendon problems.
These abnormalities can be congenital or acquired, meaning it dates back to birth or it appeared later. An orthopaedic doctor can treat both adults and children or newborns.
There are several branches in orthopaedics so a surgeon can specialise in one field. To give a few examples of specialties, there are sports injuries, tumours, arthritis, rheumatism or a particular part of the body (hand, hip...).
What does an orthopaedic surgeon do exactly?
The orthopaedic surgeon is the specialist of functional disorders of the musculoskeletal system. He can deal with a large number of problems affecting the bones, joints, tendons, ligaments or nerves of:
the upper limb, including the shoulder, elbow, wrist and hand;

the lower limb: the hip, knee, ankle and foot;

the back, especially the spine.
The surgeon's aim is to fix those injuries and restore function and range of motion to the joints.
What is the difference between the orthopaedic surgeon and an orthotist?
Unlike the orthopaedist, the orthesist makes orthotics and prosthetics.  It can be toe orthoses, insoles, joint prostheses of the hip, knee, etc.
The orthotist therefore comes after the orthopaedic surgeon. For example, you can consult an orthotist in case of an amputation or excessive deterioration of a joint.
However, they have the same goal, namely giving back to patients their mobility and physical integrity.
The diseases he can treat
Among the large number of conditions the orthopaedic surgeon can deal with, the most frequent are:
all types of trauma related to road, domestic, sports or work accidents such as luxations, fractures, sprains;
degenerative wear and tear like osteoarthritis;
malformations and growth abnormalities (clubfoot, hollow foot, flat foot, scoliosis, kyphosis, lordosis, etc.);
tumours like bone tumours;
inflammatory or infectious diseases, especially arthritis, rheumatoid arthritis and disc herniation.
The orthopaedic surgeon's skills
This physician can use both medical and surgical techniques. Indeed, once the diagnosis is clear, he can prescribe a medical treatment, medication, rehabilitation or orthopaedic devices (orthotics, splint, cast). He can also perform surgery (joint replacement surgeries with a prosthesis, repairing broken bones, ligament reconstruction, meniscectomy, osteotomy, etc.).
Usually, your general practitioner is the one who recommends consulting an orthopaedist. The surgeon reviews the patient's file and, if necessary, requests additional tests (X-ray, CT scan) to confirm his diagnosis.
The course of treatment is divisible into three stages:
pre-operative check-up to assess the patient's state of health and diagnose his condition.
the treatment itself, whether surgical or non-surgical.
post-operative follow-up to provide the necessary care, avoid complications and prevent recurrence.
Why and when to see an orthopaedic surgeon?
Every musculoskeletal injury must be treated as soon as possible to avoid the progression of the disease. Prolonged or repetitive stress on a joint could lead to early deterioration, deformity and chronic pain that is irreversible.
Orthopaedics braces relieve pain efficiently by supporting the body. If the disease is too severe, prostheses restore some function to the affected joint.
The orthopaedic surgeon does not always recommend a surgical procedure, only when the previous medical options have been insufficient or impossible to apply.
To resume, an orthopaedic surgeon has many skills and extensive expertise. In the case of injury of the musculoskeletal system, he is the most likely to prescribe the most appropriate treatment. Discover the wide range of orthotics* by EPITACT® for the hand/wrist, knee and foot.
 
*These solutions are class I medical devices that bear the CE marking under this regulation. Carefully read the instructions before use. Manufacturer: Millet Innovation. 11/2023
For more details about this general and simplified approach, here are further sources:
Swank KR, Furness JE, Baker E, Gehrke CK, Rohde R. A Survey of Musculoskeletal Disorders in the Orthopaedic Surgeon: Identifying Injuries, Exacerbating Workplace Factors, and Treatment Patterns in the Orthopaedic Community. J Am Acad Orthop Surg Glob Res Rev. 24 mai 2022;6(5):e20.00244.